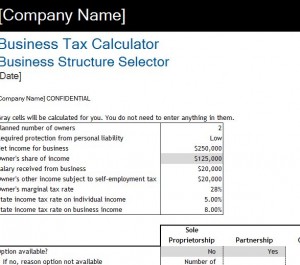 No one enjoys doing taxes. Unfortunately, you have to, it's the law. However, you can reduce the time you spend filling out your taxes by using the absolutely free Business Tax Calculator. It's time to ditch those paper forms and use a more efficient medium to get your taxes done fast and right the first time around. The best part about using this template is that you can easily edit the document throughout the year to keep all your information current and to avoid spending the entire week combing through old paperwork to get what you need. Save you and your business some time and energy by downloading the free Tax Calculator.
Business Tax Calculator Guide
To download the free template file, simply follow the link below.
The template comes packed with all the information you'll need to fill your taxes. The first thing you'll probably notice is that some cells in the Business Tax template are highlighted a dark gray. These are cells that automatically calculate information for you so there is no need to write anything in them.
Begin at the top of the page of the "Business Structure" tab and by entering your business/company's name and scroll down the page to the first table of the document.
Go through and enter all the required information for the white cells "remembering to ignore the ones in gray. When you have finished filling out all the required cells, move on to the "Tax Calculations" tab.
This tab is set up in the exact same way so simply repeat the above steps to complete your Tax Calculator template.
By the end of this process, you will receive your total corporate tax amount owed as well as the owner's share.
You will also receive tax on future year dividends. Everything you need to be prepared for tax season is incorporated into this convenient document.
Take your business to the next level by downloading the Business Tax template today.
Download: Business Tax Calculator
X
Your free template will download in
5 seconds
.
Check out this offer while you wait!