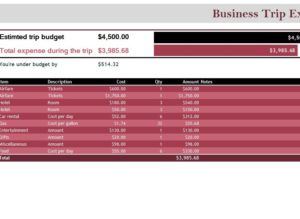 Business trips aren't always that exciting. You may have a great trip, but dealing with the aftermath isn't great. Paperwork is one of those things that just comes with the job if you want to be reimbursed for your expenses. The Business Trip Expenses Sheet is the best way to have your cake and eat it too. No more tedious calculations, all that's done for you. All you have to worry about is your work and if that happens to be over quickly, then you can just enjoy your extra time away, after all, you've earned it. Learn how to use the Business Trip Expenses template by reading the information listed below.
How to Use the Business Trip Expenses Sheet
To download the free template, just click the link below.
You will see a set of figures at the top and a table at the bottom of this document. You will enter all your expenses in the main table below.
Before that though, you will need to enter your estimated budget for this trip in the indicated cell. The example gives you $4,500 dollars. To change these figures and examples, simply click the cell and write your new information.
When that task is complete you're free to start entering your expenses. The table lists 5 different columns in which to enter different items. The first item will be the item itself. Next, enter the description, cost, quantity, and amount in the proceeding columns to the right.
The template will automatically calculate the totals as you move down the list, entering new items along the way.
When you're finished entering items, the template will display the amount you are over or under the budget you entered at the start of your journey.
Never worry about business trip expenses again with this helpful template.
Download: Business-Trip-Expenses
X
Your free template will download in
5 seconds
.
Check out this offer while you wait!