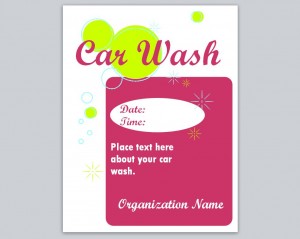 If you think you need to be incredibly computer savvy or have access to all sorts of expensive software just to create a flyer, think again! If you're putting on a car wash for your fund raiser, this car wash flyer template will give you everything you need. It prints out in standard 8 x 5 size and will allow you to post it all over town what's your complete. You will quickly be able to take it and print multiple copies for circulation. There is no substitute for good old fashioned hand to hand or post to post advertising when it comes to a car wash fundraiser.
The best part about this car wash flyer template is that it is completely and fully free! It comes with a standard template, which you can use to customize and fill out your information as you see fit. You will be a little put the date, time, location and exact address of your car wash in order to get people to show up. You don't have to worry about dealing with fancy software and hard to use tools, because this template takes care of everything for you. People will enjoy using this template for its ease of use and aesthetic appeal.
Using the Car Wash Flyer Template
The car wash flyer template is fully customizable and will let you put in any kind of information that you see fit. You don't have to feel like you're locked into the current text, because users are able to customize it to their whims. It has a bold and useful font that will stand out amongst the public. Since it is free and easily downloadable from the sit, you don't have to worry about pulling a lot of strings to get access to the flyer. It will only take a few seconds of your time to download, and from there, you are well on your way to customizing it in a way that you see fit.
So what are you waiting for? Download this car wash flyer template today to begin circulating get around town. This way, you can guarantee that you'll get a spike in attendance because you properly advertised it. You have nothing to lose, because the Flyers completely free I will let you make tweaks to it as you see fit. Keep it the same or change completely–it's yours. Be sure to pass the word on to others or use this car wash flyer template again for your next big fundraiser car wash event or promotion.
Download: Car Wash Flyer Template
X
Your free template will download in
5 seconds
.
Check out this offer while you wait!