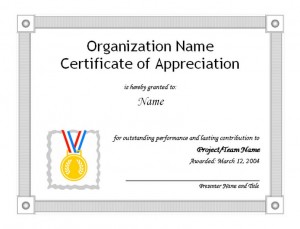 Who doesn't like a little recognition for a job well done? After all, it's the thought that counts right? Whether you would like to tell a colleague, boss or loved one that they are appreciated for a job well done, this Certificate of Appreciation template is perfect for gratifying their hard work. This template is available for free, here! Totally customizable, it is simple to use and can be easily downloaded now. Simply enter your "Organization Name", the name of the recipient, project or team name, date and the addressee of the certificate of appreciation.
Certificate of Appreciation Template Ideas
The template is a perfect alternative to designing your own certificate. Simply think about who in your life deserves a little appreciation for their hard work and efforts and put a smile on their face with this Certificate of Appreciation. As it stands now the template awards said individuals the certificate for "outstanding performance and lasting contribution to…". If you would like to enter your own text of appreciation for this certificate, you can customize the template to fit your desired needs. Maybe you'd like to award the certificate for "outstanding attendance record and dedication to the team…" or make it a little less formal and award this person for "perfect attendance and a rockin' personality!". Either way, this template can provide you with a professional and cleanly formatted certificate to show someone you've noticed their sincere effort to excel!
Personalizing Your Appreciation Template
Personalizing the template is a good idea, especially if you are planning to give a Certificate of Appreciation to multiple people. If you are working on a team you may want to personalize each template to go along with each team member's duties. For instance, someone in charge of a promotional aspect of the team may be awarded the certificate for "outstanding interpersonal skills and passionate performance". On the other hand, a person who is responsible for a financial aspect of the team may be awarded the certificate for "positive performance and admirable attention to detail."
The template also states that the certificate is "hereby granted to…". Again, you can make the template less formal by replacing that phrase with "awarded to" or "presented to" or more formal by replacing it with "bestowed upon."
Whomever you need to acknowledge a job well done, this Certificate of Appreciation is a perfect outline to follow!
Download: Certificate of Appreciation
X
Your free template will download in
5 seconds
.
Check out this offer while you wait!