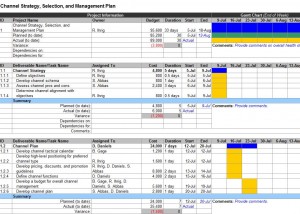 Business decisions determine success, and a good decision is always supported by facts and figures and is based on ground realities. This dictates the need for business analysis. Besides accounting record keeping and generating financial data for your stakeholders, you always need to analyze data. It is a meticulous task and the finance team of the business spends a lot of time doing that. The channel marketing plan template from MyExcelTemplates.com is a pre-programmed excel spreadsheet that simplifies the task of conducting financial analysis as well as any type of calculations you might want to conduct. Now you don't need to write formulas and spend a lot of time in making calculations for your marketing plans.
Why Use the Channel Marketing Plan Template?
The channel marketing plan template is available for you to conduct any kind of analysis for your marketing plan within a matter of minutes and without worrying about the accuracy of results. It is your solution to all your analysis needs. Now win as many projects and orders as you want by incorporating excellent analysis. Earn the appreciation of your supervisor and manager by conducting accurate analysis in no time, just by using channel marketing plan template/calculator.
The channel marketing plan template allows you conduct analysis within a matter of minutes. All you need to do is to fill in the required data in the relevant fields. Now keep track of all your marketing expenditures, relevant sales and decide where your money deserves to go. Preparing marketing budget plan requires only judicious allocation of marketing budget on your part and the rest is easily handled by channel marketing plan template/calculator. It is easily customizable in Excel and you can add or remove any fields from the excel spreadsheet. It is free despite having all these great features. You can download channel marketing plan template/calculator right now and simplify your calculation and analysis tasks.
Tips for Using the Channel Marketing Plan Template
Fill the required data in the channel marketing plan template and save the file.
Add any other fields you may need for the purpose of your analysis.
In order to calculate net present value, enter the expected cash inflows for the project under cash inflows. Be sure to divide cash inflows appropriately according to the timing of inflow.
Enter proposed cash outflow.
Enter any estimated salvage value for the project; if any.
Enter the discount rate for the project in the relevant field and there you are with the net present value of your project. Changing the discount rate, will calculate a new value of NPV and same is true for all other fields.
The results can be easily copied and taken into your word processor to incorporate into your plan.
Download the Channel Marketing Plan from Microsoft Office: Channel Marketing Plan
X
Your free template will download in
5 seconds
.
Check out this offer while you wait!