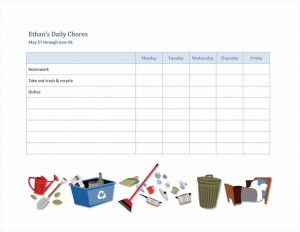 Chores are a part of life. Getting our children to do their chores and learn some responsibility can be a tedious task. One way to alleviate struggles and hassles getting children to do their chores is to make it a game. Using a chores checklist for kids template can make this task fun and painless.
How to Use the Chores Checklist For Kids Template
Accessing this template is quite simple. It is free on this page to use and one can download it on to their computer or print out a copy.
Once the template has been downloaded the individual will have the ability to personalize it to their own needs. Add the child's name, or put a fun family logo at the top of the page before printing. The individual will also be able to change the fonts, and even add pictures to the template as they please.
The child will love the customization of their very own chores checklist for kids. To really get the children excited about their chores, let them design their own checklist to use to keep track of their progress.
Making Chores Fun with the Chores Checklist for Kids
Cells can be used on this template where stickers can be placed. Let the children pick their own stickers to make it something that is truly their own. Another way in which parents can get their children excited about their chores and using the chore checklist for kids is to let them color it and maybe even add designs and hand drawn pictures.
Always make chore time fun for the children. This will teach them to appreciate hard work and earning their way. Maybe at the end of the week the parents can offer surprises or even prizes for the children when they have done all of their chores consistently.
Whether the parent is simply looking to keep track of their children's chores, or they are trying to reinforce the value of a hard day's work with their children, the chores checklist for kids template is the perfect way to make work a little more fun. Instilling the value of earning one's own way in life is an invaluable lesson that this chores checklist for kids template can aid in reinforcing in even the youngest child.
Download: Chores Checklist for Kids