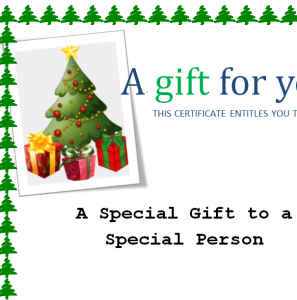 The holiday season is a great time to be with all your friends and family under one roof, but you also need to be prepared. One of the best and most common gifts to buy someone is a pre-paid gift card. With these, people can purchase their favorite book or see a movie they've been waiting months to watch, anything and everything is possible with a pre-purchased card. This season, give the people you love a festive and functional way to inform them of the amount their new gift card is worth! The Christmas Gift Card Sheet is a pre-made document that enables you to discreetly give a person the important details of their new card and then quickly carry on with the holidays!
Christmas Gift Card Sheet Guide
After downloading the free document below, simply click on the file to open the template.
The Word file only requires a few pieces of information, and then you'll be ready to print. First, click on the line that has "To:" on it. On this line, enter the name of the person that will be receiving your wonderful gift!
Next, click on the "From:" line. This is where you will enter your own name. This way, the recipient will know that the gift was from you and gives them the opportunity to thank you later.
Finally, the most convenient part of the template is that it comes with a space to enter the amount of your gift card on the "Amount:" line. This is perfect because it informs the person about the card's balance without interrupting the moment the two of you will share by exchanging gifts and thanks.
This template comes with some very fun and festive stock photos that give the card the spirit of the season. However, you can also personalize this template by adding your own photos as well. Simply right-click on the photo and select the "Change Photo" option, this will allow you to select any picture from your computer to use with the template. You can even choose pictures of you and your loved one together to make the card even better! Celebrate the holidays with this fun and simple template!
Top 3 Reasons to Use the Christmas Gift Card Sheet
Easily customizable
Everything you need is on one page
Formatted to print quickly and easily
Download: Christmas Gift Card Sheet
X
Your free template will download in
5 seconds
.
Check out this offer while you wait!