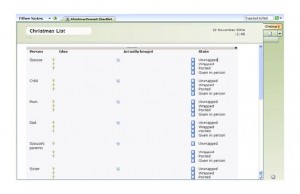 It always feels like it's getting closer and closer to Christmas and shoppers are running rapidly in confusion through the stores, but not you. This year you took initiative and organized your shopping duties by using a checklist. The Christmas Present Checklist template takes your scattered theories about what crock pot your mother would like and transforms them into structural ideas. Filling out the template is the first step to cutting your shopping time in half.
The Benefits of the Christmas Present Checklist
Start your shopping with a clear mind by downloading the free template on this page. The Christmas Present Checklist has suggested titles that describe who you are shopping for, what you think they would like, what you bought them, if the gift is wrapped, and how you will give it to them. The template can be customized, making it easy to make personal edits. The template is easy-to-use and downloadable right here.
Tips for Using the Christmas Present Checklist
Under the "person" tabs fill in the first tabs with known gifts. For example, if you know that you are going to get your dad a pair of slippers but are unsure of what to get your baby sister, put your dad first and save your sister for last. This will allow you to complete the easiest tasks first and gives you more time for the tougher decisions.
Highlight important notes by clicking and dragging your mouse over a selected text and pressing Ctrl+Alt+H. This will draw your attention to items that you do not want to forget.
Include dates that pinpoint when you made purchases and deadlines for sales.
Give your checklist a visual flare by uploading images of your family members in place of text. You may also upload images of the gift that you would like to give them. This will help you to keep in mind the ideal style and color of the items you purchase.
Email the file to yourself by using the "share" button at the top of the page between "insert" and "draw." You may also want to print the page and take it with you as you shop. Be sure to update your file with all hard copy edits.
Shopping for the holidays does not have to be a daunting task. Get organized by using the Christmas Present Checklist. Spend less time stressing and more time enjoying the blessing of family and friends.
Download: Christmas Present Checklist
X
Your free template will download in
5 seconds
.
Check out this offer while you wait!