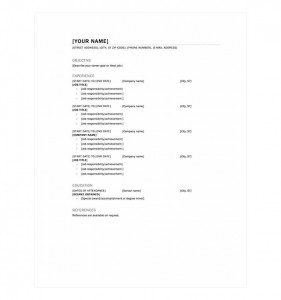 Building a resume is an art form. Which particular art form would be most appropriate to frame the experience one possesses is different for each person. However, there are a couple of different standard ways to build this job search related art form. One of those standard ways is the chronological resume form. Using a free chronological resume template will help you conquer the art form of resume writing and help you to land the new job you are seeking.
How to Use the Chronological Resume Template
First, gather the materials you intend to include in the chronological resume template. Try to chronologically order the material to be entered into the template to make things easier
Second, enter the information into the resume document. Save frequently as you enter in the information. Saving often is both a precaution against computer failures and chronological mistakes.
Third, proofread the resume to make sure that it is accurate in all respects. Then print off a couple of papers, upload to appropriate job boards, and send in with specific job applications.
Tips on Using the Chronological Resume Template
First, remember to proofread the resume several times. This document will be the first impression you will make on prospective hiring managers. Make sure that their first impression of you is a good one.
Second, periodically review your resume and adjust as necessary. Sometimes the first note is not the note that hits well in the marketplace.
Third, do not forget to use the resume created by the template. Landing a new job is not going to happen if the paperwork required to land it is collecting digital dust.
Searching for the right new job for you can be a difficult process. However, creating the best first impression for a potential new employer does not have to be. Using a downloadable chronological resume template from myexceltemplates.com can help you build an excellent chronological resume. The well-built chronological resume can then help you put the best foot forward in your job search and land you the job of your dreams.
Download: Chronological Resume Template
X
Your free template will download in
5 seconds
.
Check out this offer while you wait!