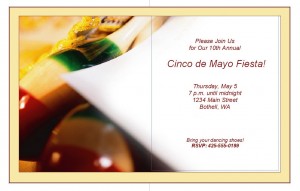 Even of you don't know a word of Spanish, you can still launch a fun and successful Cinco de Mayo celebration. This free and downloadable template describes the information needed to create great Cinco de Mayo invitations that capture both the festivity and cultural authenticity of the holiday. Common mistakes made with Cinco de Mayo invitations are cultural and historical inaccuracies that make invitations appear cliché, or even offensive. This customizable and easy to use template will result in a great first impression of your party by all of your friends and family.
The Significance of Cinco de Mayo
First it is important to know the significance of Cinco de Mayo. Although the holiday has become an excuse for Americans to dress up in Mexican themed costumes and drink tequila, the day actually represents a Mexican military victory against French occupation during the Battle of Puebla. However, this battle did not result in Mexican independence, therefore including the phrase "Happy Mexican Independence Day" on the card is a mistake.
Designing Your Cinco de Mayo Invitations
Cinco de Mayo invitations should include imagery that represents Mexican culture. The red, white and green flag with the eagle eating a snake on the cactus represents the Mexican state. Be careful not to accidentally use the Italian flag which looks almost identical but does not contain the eagle in the center. Bright colors and patriotic Mexican images are encouraged as a background for Cinco de Mayo invitations. Sombreros and mariachi instruments can also be used to add the festive element to your invitations. If used correctly, Spanish phrases can also be an excellent addition.
Impress your Guests
Great Cinco de Mayo invitations will include a description of authentic Mexican dishes that will be served to guests. Tacos and nachos are easily prepared party food but opting to serve enchiladas or carne asade with rice and beans will elevate the cuisine of the party and impress guests.
Finally, it is important to respect the culture of this day of celebration. Do not include offensive caricatures of Mexican banditos or sexy señoritas. The purpose of the event is to enjoy Mexican culture, not make fun of it. Avoiding these insensitive but not uncommon mistakes will make sure none of your guests are put off by your invitations and excitedly RSVP.
Download: Cinco de Mayo Invitations
X
Your free template will download in
5 seconds
.
Check out this offer while you wait!