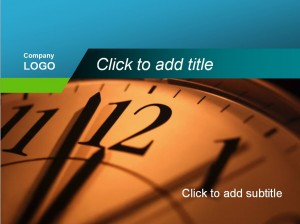 PowerPoint is the most commonly used programs to create presentations with. There are different types of slide templates you can download that will help to create a presentation more interesting. It's also practical to want to animate a single slide, with some information it translates easier with a functioning clock. Now you can download our Clock Template from our site.
This template comes in different styles with background clock images or an animated clock that counts down in different intervals. If there is time a person can make one using PowerPoint, but it is much easier to download one from our site which is ready-to-use. The pre-designed clock template on our site already has a set background and animated clock if you wish to use it. These templates also have text in them but like the background images, these are customizable.
How to Get the Clock Template
Getting and using the template is easy. First of all, it is free to download. Simply select the Clock Template that you want and click on it. If the browser is already set to download automatically then it will default to its download folder or which ever folder the owner has selected. Otherwise, the browser will ask what folder you would like to download it to. The template is also very easy to customize. It has default text information already in place but you can change it to read differently.
How to Use the Clock Template
During your presentation you may want to have more flexibility on a particular slide. Slide presentations are not always enough to get 'the point' across. Here are some ways to use the Clock Template.
First, the template is already set to open with your PowerPoint program. Activating it will automatically open it correctly.
Second, the timing of the template might be too fast or slow. By changing the points, the timing is adjustable.
Third, make the correct changes to the text to read correctly. or add more text. There are no restrictions the template when making changes.
Fourth, test out the timing of the presentation to see if it is to your liking. Making sure of this ahead of time will make sure that everything operates as it should.
Finally, save the file and transfer to the device that will be using the presentation.
The Clock Template on our site will save you time and give you a high quality presentation that is smooth and to the point.
Download: Clock Template
X
Your free template will download in
5 seconds
.
Check out this offer while you wait!