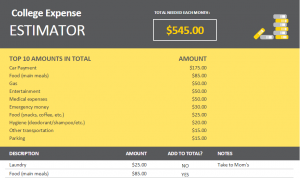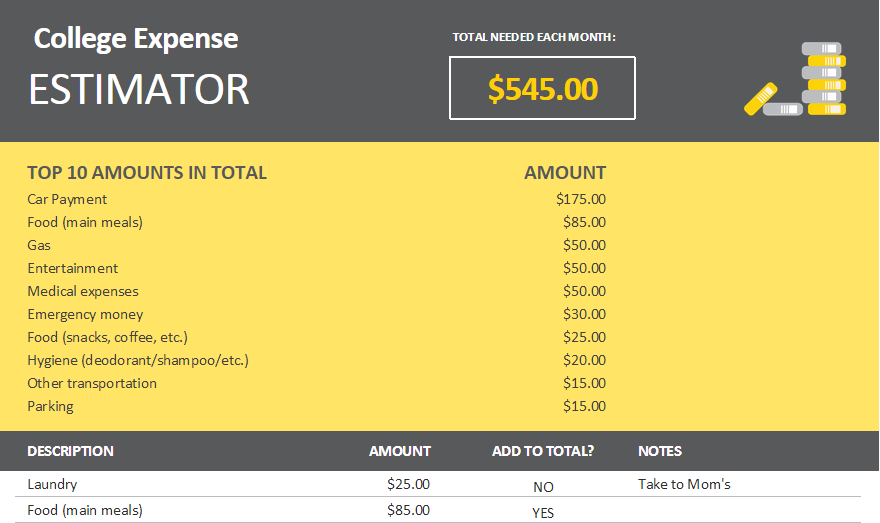 How much money should you bring to college? Likely, much more money than you actually have. The College Expense Estimator is an easy and effective Excel calculator to put together a monthly budget.
How to use the Excel Estimator
After downloading the link below, the Excel sheet will have examples already filled in to help guide you. The top gray bar and the yellow box underneath are auto generated so ignore these sections for now. Instead, move down to the columns below.
The first column is filled with categories of what you may need when you're away at college. You can change these, or simply leave some blank. The next column is the monthly amount each category costs. Enter a zero if it doesn't apply. The "Add to Total?" column is next. This is where you will indicate if the cost will factor into your monthly budget. For instance, your cell phone bill may be $20 a month, but if your parents will pay it, then put "No" in this column. If you pay for it, then put "Yes". This way, only the "Yes" expenses will be added to your monthly college budget. The final column is for notes, which can be used to indicate who is paying for something, how you'll get around a cost, etc.
Now, scroll back to the top and you'll see in the gray bar the total amount of money each month will cost you to pay for the categories you marked as "Yes". Below it will feature the top 10 most expensive categories for each month. After everything is filled in, you're finished!
Tips for using the College Expense Estimator
Adjust your budget monthly as needed. You may find that your medical expenses consistently cost less, but your transportation costs more. Move your budget around to make sure you're never over your limit.
Create this budget a month or two before school begins. Ask other students and school advisors what is paid for by the school and what is not.
Always keep a copy of your budget with you. Reference it before spending money to make sure you aren't going over your allotted budget.
Download the College Expense Estimator
Template courtesy of Microsoft
X
Your free template will download in
5 seconds
.
Check out this offer while you wait!