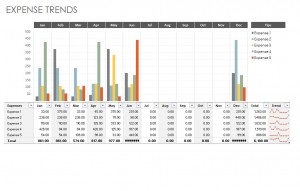 It is important for a company to track expenses to determine how money is being spent in a business. This can provide information that can help a business to make better decisions about how money is going out of this business. The Company Expense Template is a free tool that is simple to use, and can be very enlightening.
When a business can track all expenses they will have a record that can be accessed at any time to explore these expenses. This can change the way a business operates. This can also allow a business owner to begin looking for ways to eliminate expenses and begin using business money wisely.
How to Use the Company Expense Template
With a simple and free download, you will be ready to begin filling in your expense report with ease.
You can also easily read your Company Expense Template. There are Sparklines that can show you where you are spending the most amount of money each month.
If any information changes, you will have the option to easily go in and change this on your expense report.
Tips for Making the Most of your Company Expense Template
You should make sure that you are considering all of your expenses on your Company Expense Template. This will allow you to get an accurate reading all of expenses related to your business.
When you add an expense to your business, you will want to change your template information right away to have a complete expense report each month.
You should use this tool to find out where your money is going each month, and to make changes that can increase your bottom line.
You will find that a Company Expense Template can be a great tool to utilize in your business. This can be a tool that allows you to really see how money is coming in and out of your business. The template is easy to use, and this will allow you to easily update your information when needed.
Download: Company Expense Template
X
Your free template will download in
5 seconds
.
Check out this offer while you wait!