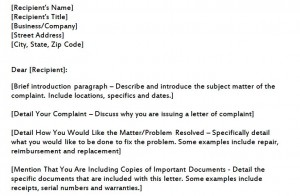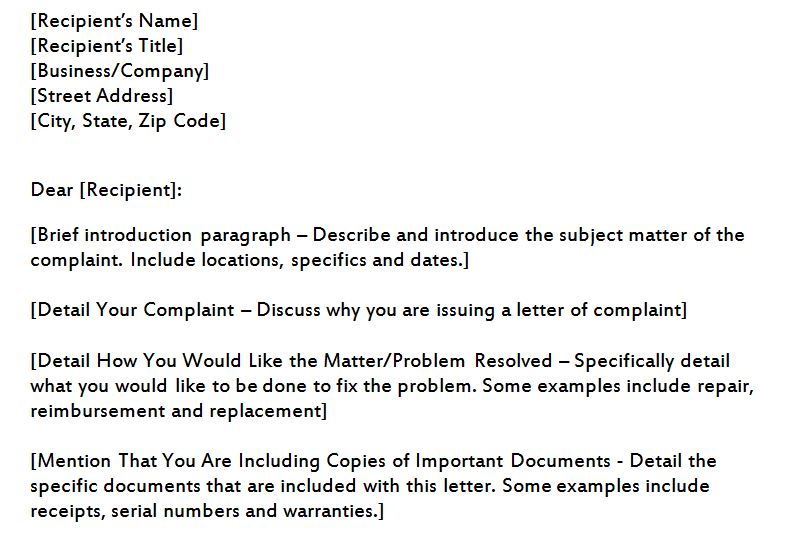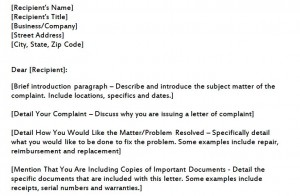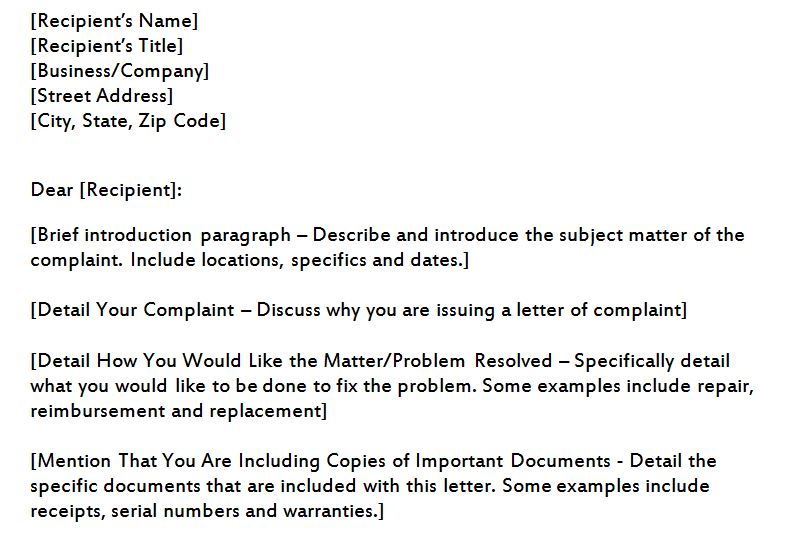 If a situation has forced you to create a letter of complaint, the odds are you are fairly stressed out. There's no reason to add to your stress by having to come up with the perfect complaint letter formula. The complaint letter template available here does nearly all the work for you. It gives step-by-step instructions that will help you deliver a professional letter of the highest class and quality.
If you're going to draft a complaint letter, this easy-to-use Microsoft Word template will help you do it right. In addition, the complaint letter template is instantly downloadable and completely free below.
Using the Complaint Letter Template for Microsoft Word
Before diving in how to use the complaint letter template for word, it's important to note that ALL brackets on the letter should be removed. The brackets merely serve as a placeholder for information as you create the draft.
The top of the letter complaint template featured here is reserved for your name, street address, city, state, zip code and the date the letter is being composed. Next, you will input the recipient's name and title, the name of the business/company, the street address, city, state and zip code.
Now it's time to move on to the body of the complaint letter. After adding the recipient's name, you will begin to pen a brief introduction paragraph. Here is will you introduce and describe the complaint. You will also want to add specific locations and dates in this paragraph.
Next, you will explain your complaint in further detail. This is where you will discuss the reason for your complaint and why you're composing the letter. The next paragraph will focus on how you would like the matter resolved. You can specifically detail what you would like to be done to fix the problem. Some suggestions include repair, reimbursement and replacement.
In the next paragraph, mention that you are including copies of important documents that will coincide with your complaint. Receipts, serial numbers and warranties can all be included. Finally, indicate that you are looking forward to a timely reply before pursuing other avenues, such as litigation.
Provide a contact number and email address, type in your name, print and sign the document and ship it away. No one wants to be forced to issue a letter of complaint, but luckily this complaint letter template will make the task quick and easy.
Download: Complaint Letter Template
X
Your free template will download in
5 seconds
.
Check out this offer while you wait!