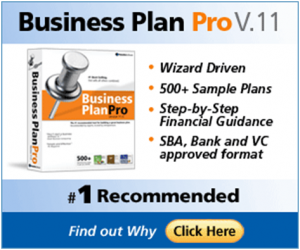 Components of a Business Plan – Part V
Don't fall in love with the idea of your business.  You may have dreamed about the idea of this business for years and are just acting on it.  You must still treat it as a business and not let the thought of if prevent you from viewing your business realistically!  You must think strategically and be objective about your chance of success. Your business plan should enable you to put your ideas into a workable plan or feasible blueprint.  It will manage all of your business elements and allow you to develop a game plan for where your business is headed. As you develop your business plan, you should know what it contains and not just fill in the spaces of a blank business plan template.
Components of A Business Plan
Here are the simple components of a business plan that you can use as a guide:
Executive Summary
Mission Statement
Company Description
Ownership
Operations
Financial Plan
Marketing Plan or Sales Plan
Executive Summary
Your executive summary should emphasis the high points of your business.  It will state the purpose and marketing potential of your business.  It should also contain the milestones, products and services, and financial results of our business.  Focus on what makes your business unique and draw attention to the best parts of your business.  In general, you will write this part last as you develop your plan.
Mission Statement
Your mission statement should clearly state your company's long term vision.  It will illustrate how you plan to grow and develop your company in the years to come.
Company Description
Your company description will describe type of business you are in.  It should also list your services and products.  This where you will describe your market, competencies, and distinctions.   Lastly, it will define your keys your success business.
Ownership and Management
This section will describe your personal qualifications for this type of business.  It will list your experiences in your business field and what strengths you plan to bring to your business.  This is where you will include your resume and reviews that highlight your strengths and experience.
Products and Services
This section will list the products and services you plan to sell.  It should be description since they will be the key to your success.
Financial Plan
This section will track the expected cash flow in and out of your business.  There should be month-by-month and annual comparisons.  Use this plan as your blueprint monthly while you are conducting business.  You can compare where you budgeted funds and where the money was actually spent. This section should contain the following:
Balance Sheet
Profit and Loss Statement
Statement of Cash Flow
Sources of Funds
Uses of Funds
Vendors and/or Suppliers
The key to successful cash management is how you monitor the flow of your cash flow.  You want to remember the basics: Slow cash flow going out while speed up the cash flow coming in.  Slowing the flow of cash flow out can be done by developing terms with your vendors and suppliers.  This allows you to temporarily delay payment while you are actively bring in cash flow from your business sales. The last section of this series will focus on finalizing your business plan by finishing the financial plan section and go into the marketing plan.
To see several business plan examples for different business niches, visit Business Plan Pro.
X
Your free template will download in
5 seconds
.
Check out this offer while you wait!