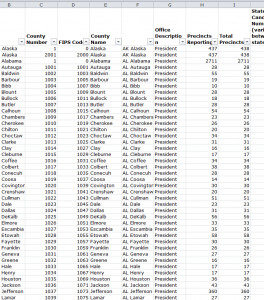 If you're someone that's excited about the upcoming election and you want to keep track of the polls, there's no better way than by using the free Comprehensive Election Poll Tracker. The free template gets right down to business and allows you to quickly enter all the important information for the election. Everything from state to the number of votes a candidate has pulled is covered on one page. Now you can follow the election with ease using this free template.
How to Use the Comprehensive Election Poll Tracker
To download the Comprehensive Election Poll Tracker, just click the link at the bottom of the page.
The top row of the document tells you everything you need to enter for each column. You'll start by entering the state and its information then move on to entering the candidates you want to track.
The Comprehensive Election template provides you with plenty of space to enter as many candidates as you want to monitor. When entering a new candidate, you'll write their party affiliation first and end with their order. When you see the "Party" column again, that means it's time to enter another candidate.
As you make your way through the list, be sure to enter your candidate's information for every new state.
Notice, at the top of the screen in the headers, there are drop-down arrows. These allow you to filter out information if you need to find something specific and you don't want to read through the entire list to find it.
For example, if you want to know the information for just one candidate, you will click the drop-down arrows in "First Name" column and uncheck the ones you don't need. This will pull up the information for one candidate only.
This template is easy to read and intuitive to use. All you need to do is enter the polling information you find on a reputable site and then you can follow your presidential choice as they make their way to the Oval Office.
Download: Comprehensive Election Poll Tracker
X
Your free template will download in
5 seconds
.
Check out this offer while you wait!