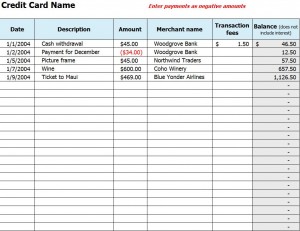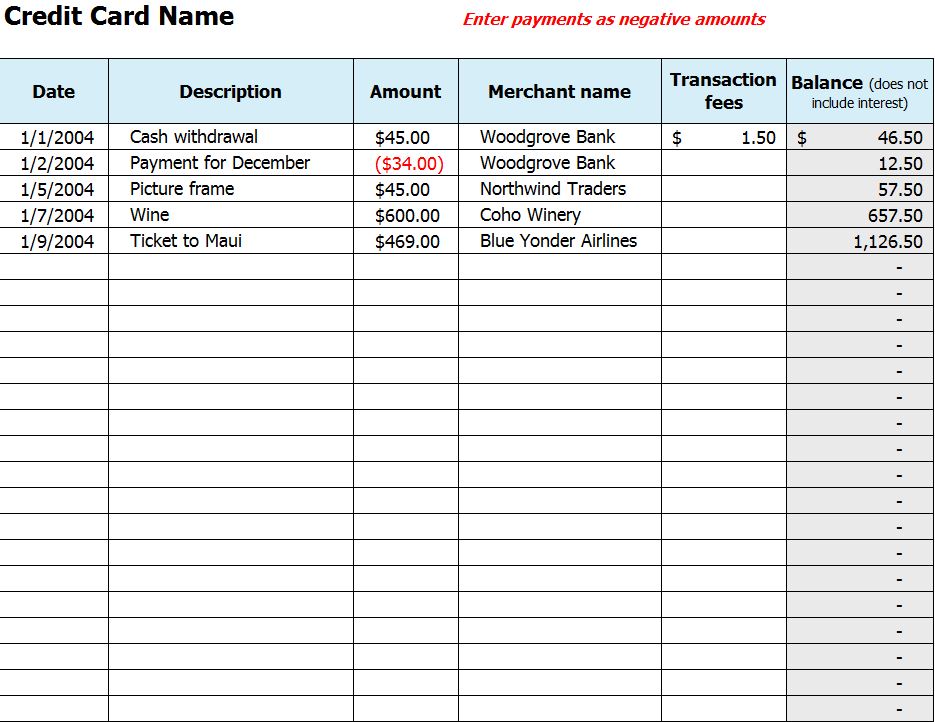 In the modern age of credit, we swipe our cards more often than we could possibly keep track of on our own. Fortunately, with the Credit Card Use Log, you can keep track of all your purchases and payments, then use the convenient and concise log when receiving your monthly billing statement. With columns for the date, description, amount, merchant name, transaction fees, and current balance (which it calculates for you each time you enter a new transaction), you can stay on top of your credit card bill and payments without the usual hassle.
How to Use the Credit Card Use Log
First, download the free Credit Card Use Log template directly from this page. Familiarize yourself with the columns to know what information you will need to record when you make a purchase using credit.
Second, record your purchases in the log and it will keep track of your balance automatically. Remember to enter payments as negative numbers.
Third, consult your purchase and payment history when you contend with your monthly billing statement. If you didn't miss any information, the log should have your correct current balance stated for you.
Tips for Using the Credit Card Use Log
Add as many details as possible when recording purchases to have a more accurate and complete list for use later. Something as simple as a brief description can help you recall the purchase later if you forget.
Write down these purchases as soon as possible after they occur. This helps you to avoid forgetting purchases and maintain consistency in your log.
It cannot be stressed enough that you must input your payments as negative numbers. Omitting the negative sign will create a discrepancy in your balance. It's a simple and common mistake that is easy to avoid.
Keeping track of your credit purchases can be a chore, but with the Credit Card Use Log, you simply enter basic purchase information and it does the work of calculating your balance for you. It's downloadable for free, right here, at myexceltemplates.com.
Download: Credit Card Use Log
X
Your free template will download in
5 seconds
.
Check out this offer while you wait!