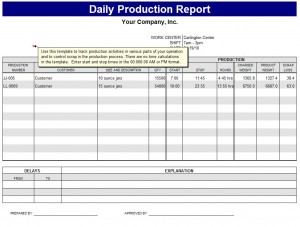 Keeping track of employee production is vital to efficient production. These metrics will influence everything from the film's budget to its timeline. By creating a daily production report, you will have an accurate picture of the how much your crew is achieving on any given day. This easy-to-use customizable template is available for free download on our site.
Elements of a Daily Production Report
In this example, we're using the daily production report to track progress of the production of a film. There are several elements of the daily production report that are important to accurately measuring your film's progress. At the top of your report, list the names of the production company, production title, production managers, producers and directors as well as the number of scheduled production days.This form will also include the current production day. Depending on the number of projected production days, you may want to make duplicates of this form for easy reference.
Script Notes – These notes will detail the pages and scenes that the crew completed that day. They will also detail the time that the crew wrapped for lunch.
Camera Report – These notes are crucial to the production report. They list how much of the film reel was used and how much is left in inventory for subsequent days.
Sound Report – This portion of the daily production report will track the amount of audio recorded on each sound tape.
Extras Breakdowns and Background Production Assistants – This part of the DPR lists the names and number of background actors and production assistants involved in the project.
The back of the daily production report will also contain information vital to the day's work. On the back the report will list the names of the entire crew including any office staff. It will also track the costs of rented equipment and crew meals. There is also a section on the back that will allow you to record out of the ordinary events like a loss of equipment, burglary or injury on the set.
A daily production report is vital to the success of projects, small or large. It is key in tracking expenses and staying on schedule. Download your free report today.
Download: Daily Production Report
X
Your free template will download in
5 seconds
.
Check out this offer while you wait!