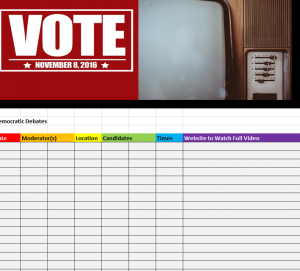 A primary debate gives everyone in the country the unique opportunity to see every candidate debate the merits of their plans and stress their viewpoints on the most important issues facing Americans today. This information is vital when it comes to choosing a candidate that you know will support your own personal beliefs. The Democrat Primary Debate Schedule is a free template that can help you organize the debate schedule so you have the dates and times for each one ready to go on your person. You'll never miss a single candidate argue their focal points for the future of the country when you download this template.
How to Use the Democrat Primary Debate Schedule
You can download the file containing this template simply by clicking the link below.
The template is color-coordinated for your convenience. All you need to do is fill out the information listed in the header section at the top.
Start by entering the date in column A. This will inform you of the date the Democratic debates will take place. You can go online to find the schedule for the upcoming debates.
The next section allows you to enter the name of the moderator for the debate. Now this can be quite interesting depending on the person. You may want to watch one debate simply because of the moderator.
The location is also extremely important. Candidates sometimes go all out for states that are strategically valuable for them to win. This always makes for an interesting debate.
Of course, you're going to need the candidates participating in the debate listed. Simply enter the candidate's last name in the corresponding date and time columns of when they will be debating. There will be a separate "Times" column if the candidates are split into different sections.
Finally, if you intend to watch the debate online at a later date, the "Website to Watch Full Video" column is where you'll enter the URL. This way, you can simply click the link and watch the debate with no hassle. No more searching the 10th page of Google for the entire video.
Have all the information you need for the Democratic debates with this simple Primary Debate Schedule template.
Download: Democrat Primary Debate Schedule
X
Your free template will download in
5 seconds
.
Check out this offer while you wait!