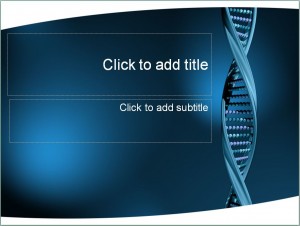 There is nothing worse than a boring PowerPoint presentation. A great way to spice up any presentation is with a powerful visual element such as this DNA template. It provides a compelling backdrop for any and all science themed presentations. It is particularly beneficial for biology teachers or students to use as a visual aide to draw in their viewers.
This DNA template is ideal for a variety of diverse occasions. It is easy to use and has a neutral background color which makes adding light colored text a breeze. In addition, there is plenty of space for images and clip art that will not block the interesting DNA strand graphic. Choosing this unique template will, without a doubt, make a presentation stand out.
How to Use this DNA Template
The first step is to download the DNA template directly from this website. It is quick and easy to download and completely free.
Next, open up Microsoft PowerPoint and select the template. It is fully customizable to include different fonts, backgrounds, images, and layouts as needed.
This third step is when you add in all the information for the presentation. Be sure to be thorough and complete in both text and images.
Finally, it is time to present to the class, group, or training and be prepared for an attentive audience as they view your compelling visual presentation.
Tips for Using this DNA Template
When using this template, try to include a small amount of text then elaborate on the points while presenting. This is more interesting to the viewer because otherwise you may find yourself simply reading the points then left with nothing else to say.
Another helpful tip for this template is to practice the presentation prior to doing it in front of a group of people. No matter how confident you are, most people get at least a little bit nervous before a presentation so it is helpful to be prepared.
Try using this template for multiple PowerPoint projects. It is versatile in the sense that it can be used for biology and genetics but also a presentation about parents or children. Consider the many opportunities to utilize the DNA template.
Finally, it is helpful to stick to a light colored text with this template as darker colors might be more difficult to see. Also try supporting your presentation with additional graphics as you see fit.
Download: DNA Template
X
Your free template will download in
5 seconds
.
Check out this offer while you wait!