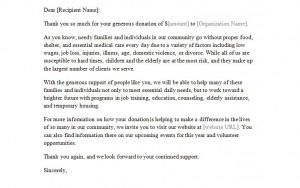 When asking for a donation in the form of a monetary contribution it is important to provide the information clearly, so that potential donors can make a decision. A donation letter gives the donor a outline of what, when, and how their donation will be used. Most nonprofit organizations know this is the best and most efficient way to communicate with potential supporters. By using this free donation letter template you're able to customize it to your organization or cause.
To use the donation letter template it is important to note that the brackets are placeholders for information that can be changed or deleted based on the customizations you require.
How to Use the Donation Letter Template
First you will need to add your organizations name and address on the top of the template. Once you have added your information it's time to address your donor by adding the recipients name, title, company or business, and address.
After completing that portion you're ready to begin with the body of the letter. First, start by indicating the purpose of the donation letter. Be sure to include who the donation will be benefiting, how the funds will be used, and if their contribution is tax-deductible. This information can be a deciding factor for a decision maker.
Some Points to Think About when Requesting for Donation
Keep your letter simple into the point.
Use the donation letter template to keep the letter short and in simple paragraphs.
Introduce your organization, what is your mission or mission statement, and lastly what you would like for the donors to take away knowing how their contribution will benefit others.
Indicate what benefit the donor will receive by donating their time or funds. Is there monetary donation tax-deductible or can they use your organization as a reference for skills and time they donated?
Why are you calling on them? Have they supported your cause before?
Lastly, be sure to thank your recipient for their time, donation, and support. Be sure to sign your letter, add your contact information, and your website. Donation letters typically follow a similar template, so be sure to reference this article and keep this donation letter template for future use.
Download: Donation Letter Template
X
Your free template will download in
5 seconds
.
Check out this offer while you wait!