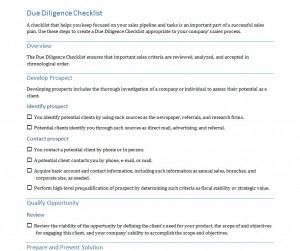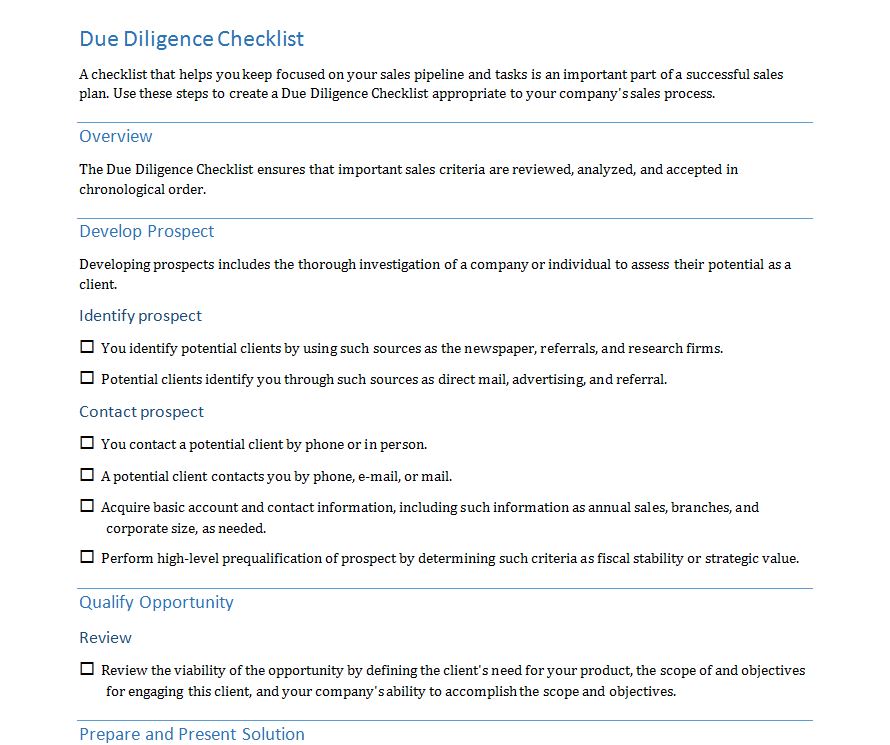 Companies must always take steps in order to ensure the safety of the organization. Many companies fall because they fail to comply with legal obligations relating to their particular business model. As a business, you are held responsible for anything and every transaction that occurs within your business. Therefore it is necessary to take precautionary measures that will ensure your organization doesn't fall short due to liability issues. All companies should produce a due diligence checklist to follow in order to ensure they operate in the proper manner. Due diligence references the level of judgement, prudence, and determination an organization is obligated to follow in order to operate correctly.
Getting Started with the Due Diligence Checklist
The due diligence checklist is a template that easily allows you to formulate a checklist to ensure important sales data is reviewed and analyzed in an organized manner. Many companies whose business uses customers personal information are required to perform due diligence while doing business.
Visit the Microsoft office page and download the free due diligence checklist.
Once you locate the download open a new document.
Always customize your report. Put your company name and logo on your reports. Customize your documents accordingly.
Use an outlined format to organize your information. Use letters, numbers, symbols, and Roman Numerals.
Use company informational resources to fill in the document accordingly.
Tips for Using the Due Diligence Checklist
When creating, always remember that this document goes hand in hand with the legal obligations of your entity. Let the document favor an informational guide.
Avoid using colors.
As you organize your information throughout the document, always consider the reader. Keep the flow of information easy to read. Leave space in between points.
Use bold lettering to emphasize subheadings.
Always proofread important documents. The goal of due diligence is to make sure your entity operates as thorough as possible. Also, errors could be a sign of unprofessionalism to some readers.
 Always keep in mind that this document can be edited. Take your time and use this to your advantage.
The due diligence checklist is a great tool for businesses. This template allows you to successfully create a checklist while guiding you through the process. This will help reduce time and slack which can be then used to focus on other efforts. Microsoft office has many templates available to help your company produce business reports.
Download: Due Diligence Checklist
X
Your free template will download in
5 seconds
.
Check out this offer while you wait!