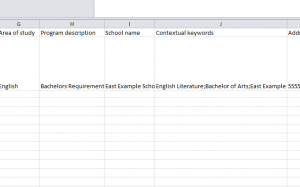 Promoting a school can be somewhat of a difficult task. What information should you include? Who is your target audience? Well, if you want to promote your school in the most efficient way possible, the Education Feed Template is the perfect accessory to your pre-existing AdWords campaign. With this free document, you can customize a perfectly tailored ad for your customers with the dynamic remarketing tools and strategies displayed below.
Education Feed Template Guide
Start by entering your Program ID in the first column. This ID is a unique code comprised of numbers and digits that relate to a specific course in your school. This code will be displayed across all campaign fields so be sure to make this code completely unique.
Next, the Location ID is a secondary form of identification, in this case, the location of your class. This serves as a helpful way to separate your information, especially if your school or business offers a lot of courses.
The Program name is what your customer will be viewing when they see your dynamic ad. You'll simply enter the name of the course you want for the "Final URL" in the next field. The customer will be taken to that destination once they click on your education feed ad.
The Final URL will be a specific page within your website that the customer is sent once they click your education feed ad.
The next step is to enter the image you want displayed on your ad into the Thumbnail Image URL column. For this section, you can use a JPG, JPEG, GIF, or PNG. This image will appear smaller than the next field, "Image URL".
Your Image URL is recommended if you don't use a Thumbnail Image and can be displayed in your ad.
To help you organize and catalog your education feed items even further, you can use the Area of Study column to relate specific information about your courses in your education feed ad.
The Program Description column also allows you to specify your courses in a variety of ways. In the template provided, it states the example course is a requirement for the Bachelor of Arts degree program.
Remember to list the name of your school in your dynamic ad in the School Name column.
The next column, titled Contextual Keywords, will let you enter the prevalent keywords you want to be associated with the content of your webpage. This will allow recommendation engines to easily find the items in your list that a customer is more likely to want.
To add the address of your school, simply enter it in the Address column. It's recommended that you use the same structure as the example given when filling out your address information. This information serves as a secondary way to track users that are in close proximity to your school.
There is also a way for you to add a tracking URL for people to visit before they reach your landing page. Using the Tracking template with the Final URL, you can include helpful parameters, such as ValueTrack, to keep track of your ad clicks.
If you want to create your own parameters for a unique URL, you can use the Custom Parameter column with the Final URL. This will help you specify unique education feed items. The example lists the subject "English" and the location in this instance.
Once you have completely filled out your Education Feed Template, simply upload your document into your AdWords campaign.
Download: Education Feed Template
X
Your free template will download in
5 seconds
.
Check out this offer while you wait!