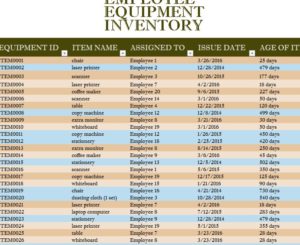 Sometimes it's necessary to assign your employees items within your company to use, return, or borrow for a certain length of time. The Employee Equipment Inventory Sheet is the best tool for logging this information as quickly as possible. For example, if you have an employee that needs access to the storage room throughout the day, you can log the key to that room under their name and the date. You can make your day a little easier and avoid endlessly writing the same information over and over again. This template is here to do the hard work so you can get back to what's important. Download this free template today.
Using the Employee Equipment Inventory Sheet
The template sheet makes it pretty simple for you to enter key information and continually use it later with just a few mouse clicks. Begin in the "Settings" tab at the bottom of your screen.
Here, you will find two distinct tables. One is for entering different employee names and the other is for listing certain items that you need to track. Go through these tables and enter as many names and items as you'd like to monitor and then proceed to the "Equipment Inventory" tab.
There are five columns in which to enter information on this page. First, enter the "Item Id" (which corresponds to the settings tab from earlier. Next, enter the name of the item being checked out and the person assigned to the item. You will also list the date and length of time the item is assigned to the person in the last two columns.
At the top of the page, you'll also notice drop-down menus for each category. These are extremely useful in case of an incident. Let's say you notice something went missing from the storage room. You can use these drop-down menus to select the people, items, or dates in question.
For example, you know that the item was there yesterday morning and went missing the next day. You can use the date column to select that specific day and see who checked out the key to immediately resolve the issue.
Now you can have your business running smoother than ever before. Download the Employee Equipment Inventory Sheet to get started today.
Download: Employee Equipment Inventory Sheet
X
Your free template will download in
5 seconds
.
Check out this offer while you wait!