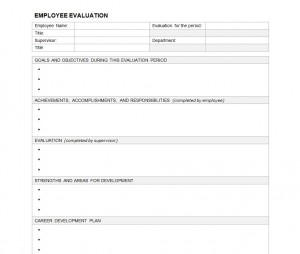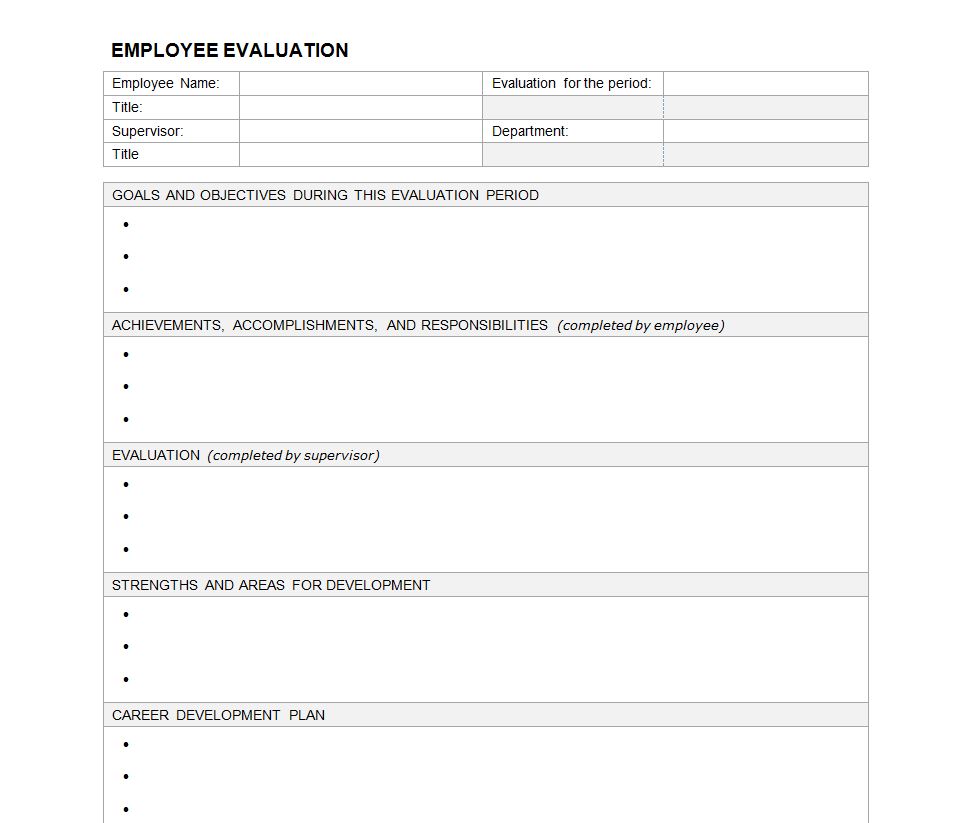 Evaluating employees can be a tedious process that requires a great deal of time and paperwork, especially if there is no streamlined form or process in place, but it doesn't have to be. As someone responsible for supervising, managing, and evaluating employees, it is imperative that you have a way to evaluate the performance of your employees in a concise yet comprehensive manner. An employee evaluation form can help to formulate and simplify the employee evaluation process.
How to Use the Employee Evaluation Form
All of the information that is needed for an employee's evaluation can be included on one page using this employee evaluation form. To use this form, which can be completed using Microsoft Word, first fill out the relevant, specific information about the employee requested at the top of the page. Next, enter the goals and objectives that the employee was working toward during the period being evaluated. Then have the employee enter his or her achievements, accomplishments, and responsibilities.
In the next section, you as the supervisor will write specifics evaluating the employee's performance. After that, the next section asks for strengths and areas for development. Following that, fill out the employee's career development plan and goals and objectives for the next evaluation period, which could be completed with the assistance of the employee. You can download the template on this page, in Microsoft Word format, which is free to download on this page, customizable, and easy-to-use.
Tips for Using the Employee Evaluation Form
The employee evaluation form is a way to document employee performance, which is very important. Make sure to keep a copy signed by the employee and his/her supervisor in the employee's file and to give a copy to the employee.
This template provides a way for employee and supervisor to collaborate on goals and performance strengths and weaknesses of the employee.
The form can provide a routine, structured way to conduct employee performance review meetings.
If needed, you can modify this template according to the needs of your company's employee evaluations.
Make sure that all information included on the employee evaluation form is detailed, clear, and accurate. When employees have clear assessments of strengths and weaknesses, clear responsibilities, clear goals, they are more likely to be successful than if these areas are unclear or unspecified. The clearer the goals, they easier they are to work toward accomplishing.
Transfer goals and objectives for the next evaluation period (at the bottom) to a new evaluation form for the next meeting, where they will then go into the goals and objectives at the top.
Email the form to the employee prior to the evaluation review meeting so that he/she can enter achievements, accomplishments, and responsibilities.
Make sure to evaluate whether the employee has met the goals and objectives that were specified at the previous meeting on the form.
Download: Employee Evaluation Form