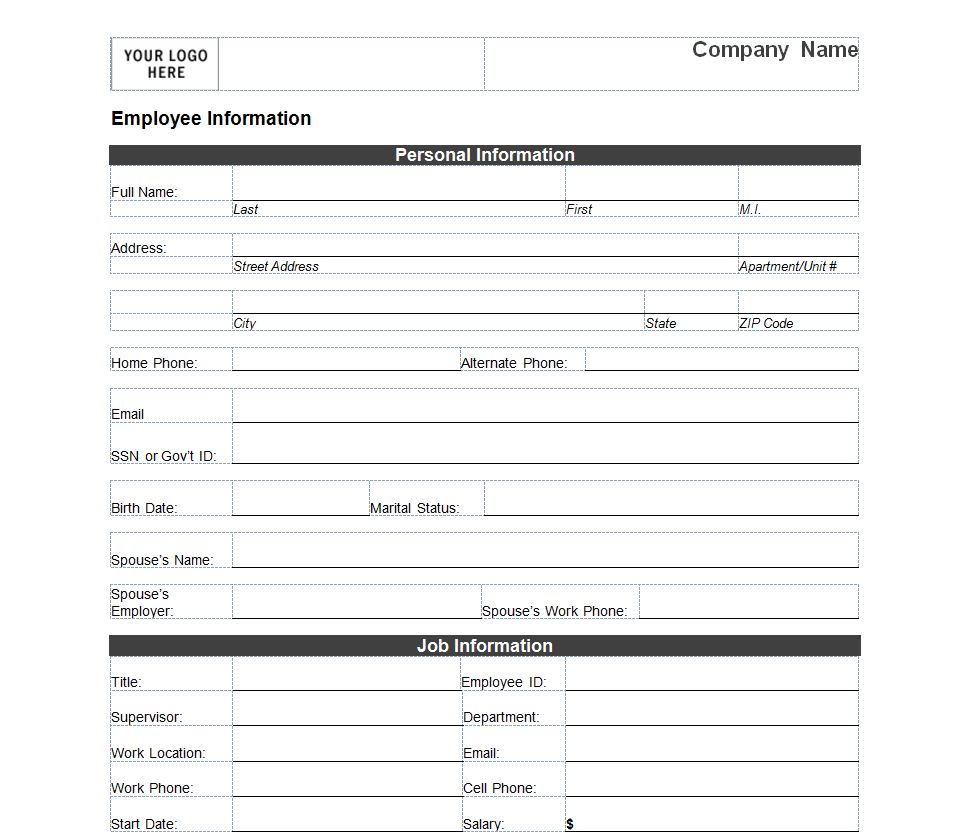 There are several reasons why every business needs to use an Employee Information Form and this site allows you to download and customize this template for free! The main reason your business will need an employment Information Form is the fact that the IRS requires you to record personal information on all employees for tax purposes.
You can also use this form to check the employees background, as security is always an important factor in business. Another reason to use the Employee Information Form is that is to get vital emergency contact information for accidents and medical concerns. Additionally, this form allows employers to get to know the employee on a personal level.
Customizing the Employee Information Form
Get creative customizing your Employee Information Form. First, prioritize the most important information, for example, every employer should know the employee's first and last name in addition to their birth date for identification. Keep up with a recent street address, as this will allow the employer to send out weekly payroll checks, reimbursements or any notifications in the mail. It is also important to know the employee's home phone and one other alternative phone numbers as well as an Email, for immediate contact purposes. Also, the employer will need to know their social security number for a background or a credit check.
The Employee Information Sheet could also ask about the employee's marital status and other information about their spouse for tax purposes. More so, there could be a section outlining the employees job information such as job title, employee identification number, their supervisor's name, the department they work in and their salary to better identify you for tax purposes.
There can also be a section on the Employee Information Form for the name, address and phone number of the closest relative or person the employee wants contacted in case of an emergency. These are just a few ideas for customizing this easy to use template! Download it here for free today!
Tips for Using the Employee Information Form Template
Use the data you collect! Follow up with background checks and other procedures.
Always backup your files or have many copies in different, yet secure, places.
Never give this private information to unauthorized personnel! Beware of identity theft!
Download: Employee Information Form
X
Your free template will download in
5 seconds
.
Check out this offer while you wait!