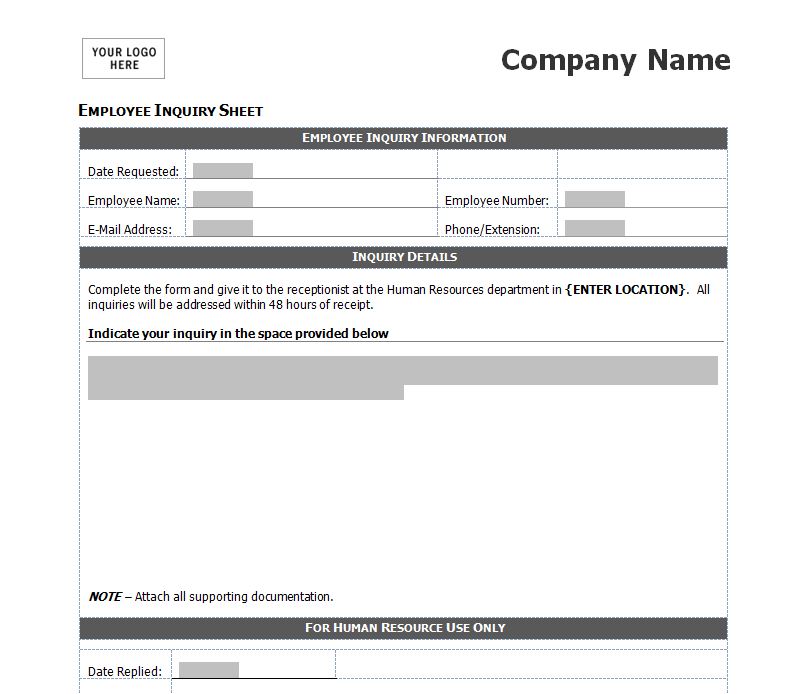 It doesn't matter what kind of a business you are involved in, if you have employees, you are bound to struggle with communication problems. Anything that you can do that will make communications better, and make it easier for you to deal with problems is worth a lot. The Employee Inquiry Form is just such a tool.
The Template for the Employee Inquiry Form is Free
The fact that this template is free makes it even more valuable.If you have a tool that you can use to greatly increase the effectiveness of your communications, and end the frustration of employees that can't get the question answered quick enough.
Fully Customizable to Your Business
While all businesses have some of the same basic needs,they are all individual too. That is another bonus that comes from using the Employee Inquiry Form template. You can change the form to meet our specific needs and concerns for your business. However,it may also give you some ideas of how to address some problems that you didn't see as problems before.
The Employee Inquiry Form Template is Easy to Download and Use
This template is so self explanatory and easy to use. Right from the start you can download it to your computer and not have to wait for it to be sent to you. Not only is it easy to download, but when you get it you will be able to get right to work on making your business better and improving your communication. Following the guidelines of the Employee Inquiry Form you will be able to get your form set up and in place and then you will start to see changes.
Any time that you can take away confusion and inconsistencies,you will see a boost in morale. With the Employee Inquiry Form template you can make it so that your forms contain all pertinent information, this will end the need for many different reporting forms. You will have better communication and higher morale among your employees. Good communication is good for you and good for your business.
Download: Employee Inquiry Form
X
Your free template will download in
5 seconds
.
Check out this offer while you wait!