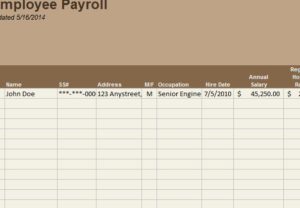 Salary, PTO, 401K, and everything else that goes with having an employee can leave your head spinning. Tracking all this information efficiently is a nightmare. That's why the Employee Payroll Template was designed to help do all the heavy lifting. The template was made to blend flawlessly with your pre-existing organizational system. All you have to do is fill out the information listed for each of your employees and you'll have that data ready and available to pull up any time you need.
Using the Employee Payroll Template
The first thing that you need to do is download the free template file directly to your computer. To do this, just click the link provided below.
There are two different tabs for this template, one if strictly for employ information and the other of for Payroll information. In the "Payroll" tab you can find things like social security numbers, Medicare information, and things of this nature.
In the "Employee Information" tab there will be sections for PTO, overtime, current hourly wages, and basic information like that.
Start in either section and enter the ID and employee name in the corresponding columns of the Employee Payroll. From there, you will just make your way through the columns entering the information suggested in the header.
When you need to move to a new employee, you simply go down to the next column and start the process over again. Then, once you finish entering either the "Payroll" or "Employee Information" tab, you will fill out the other in the same manner.
Using this Employee Payroll, you will be able to keep track of as many employees as you need and keep them electronically for as long as you want.
Why You Should Consider Using the Employee Payroll Template
Sections for both personal and payroll information.
Store as much employee information as you want.
Simple format to start quickly and easily.
Download: Employee Payroll Template
X
Your free template will download in
5 seconds
.
Check out this offer while you wait!