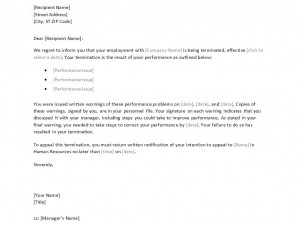 An Employee Termination Letter is a vital business tool for any company. A written document detailing any termination is a must in today's business environment. With the complex nature of today's Human Resource practices, your Employee Termination Letter should be straight forward, to the point, and consistent with company policies.
Our template will allow you to accomplish this in an effective, professional manner. The Employee Termination Letter Template is available for your free use with a simple download from this page. You will find our template is easy to use and effective for accomplishing your Human Resource needs.
Using the template is simple, and it allows you to customize the letter for each occurrence while maintaining a standard format.
How to Use The Employee Termination Letter Template
Enter your company's information in the designated areas at the top of the letter template. This should include your name, company name, and company address.
Fill in the date in the section below your company's information.
In the third section, enter the name of the letter's recipient along with their address.
Enter the recipient's name in the greeting portion of the letter.
You can change the effective date of termination by clicking on the selection in the first line of body of the letter.
Using the outline provided, enter the reasons for the termination. Be specific as possible.
In the next paragraph, enter the dates of any performance warnings that the employee received.
In the final paragraph, enter the name of the Human Resources Representative that will handle the termination and a contact deadline date.
Enter your name and title in the closing of the letter
Finally, enter the name of anyone that will be copied on the letter in the cc portion at the bottom of the template.
Tips for Using the Employee Termination Letter Template
Be specific when citing reasons for the termination
Keep it professional. Use facts, not personal opinions.
Only reference negative performance that can be backed up with documentation.
All companies experience terminations at some point. Use our Employee Termination Letter Template to make the process as seamless and professional as possible.
Download: Employee Termination Letter Template
X
Your free template will download in
5 seconds
.
Check out this offer while you wait!