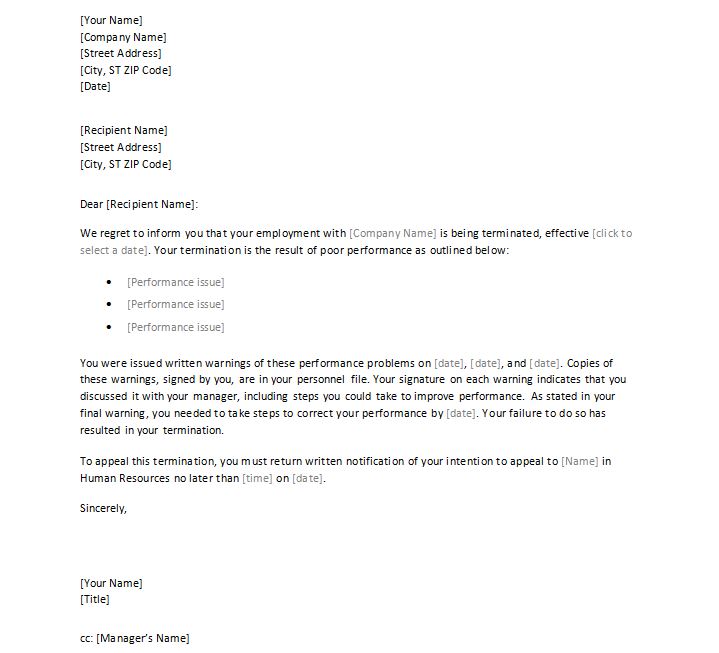 Letting go of an employee is never easy task. Using an Employee Termination Letter Template is the best way to document and let the offending employee know why they are being terminated. This template takes away the hassle of having an unpleasant conversation, and will create peace of mind with its easy-to-use design.
Use this template to effectively communicate detailed reasons why the employee is being terminated, taking away the stress and awkwardness associated with letting an employee go.
How to Use the Employee Termination Letter Template
The Employee Termination Letter Template is customizable for any business. It is a standard, written notice that can be used in any industry. Download from this page to start the process now, or save for future use. The following describe how to use the template:
First – select template, and note fill-in-the-blank sections. These areas are used to document the person being terminated, date, recipient address, and company name.
Second – go to sections that note poor performances. This template provides three, easy-to-read bullet points. This section is used to note poor performance details.
Finally – Fill in terminators name, as well as any additional information or instructions terminated employee may need to know.
Tips for Using Employee Termination Letter Template
The following are a few tips to keep in mind when filling out this easy-to-use template.
Be concise – proofread, double check dates, and offenses. Make sure all information is accurate before giving to employee. There is nothing worse than giving a termination letter with the wrong information.
Be Direct – Terminating an employee usually is not a pleasant experience. Get directly to the point. Make sure noted offenses are accurate, and information is credible and solid. This letter's purpose is documentation.
Don't be Bias – Document information from third-party perspective. Make sure information does not seem bias or unfair.
Using an Employee Termination Letter Template diminishes the stress of terminating an employee. This template allows proper documentation, for both parties, when the time comes.
Download: Employee Termination Letter
X
Your free template will download in
5 seconds
.
Check out this offer while you wait!