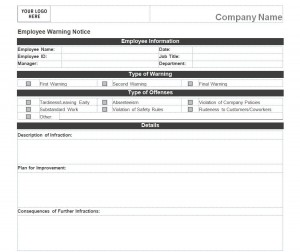 Occasionally an employee and employer don't see eye to eye on everything. For those times, it's important to take a fair and well documented approach towards both the business and the employee. Documenting something well means thoroughly and accurately reporting the situation between the two parties as it happened. As a business owner it is imperative that the employees you choose to bring aboard have the the business's best interests in mind and that you the business owner has the tools to make sure you are able to protect yourself when needed.
An Employee Warning Notice achieves all of these objectives and is a must for any business wanting to get the most from their employees. Our template provides detailed sections including a space for the employee in question to acknowledge acceptance of the document.
How to Use the Employee Warning Notice Template
Customizable, free and with clear concise instructions how on to download as well as for use, this Employee Warning Notice template can be downloaded straight from our website! Just click the link on and get started, it's that easy.
Tips for Using the Employee Warning Notice Template
Make sure to keep warning notices well organized, easy to access and safely/securely stored for later use. Proper documentation can and will protect you from bad employees and unnecessary future headaches.
Be as specific as possible when filling out the Employee Warning Notice, and use all of the areas provided including the areas for notes, the more information you have the easier it is to assure things continue to run smoothly between you and your staff.
Make sure the employee thoroughly understands the Employee Warning Notice before having them sign it so as to avoid any potential misunderstandings that might arise later. Be as clear as possible in order to ensure that you are protecting your business.
The best companies are the ones where employees and the employer have good relationships. Effective communication is key to maintaining the sort of environment in the workplace where good working relationships can be formed; detailed use of the Employee Warning Notice can help see that goal become a reality in your business.
Download: Employee Warning Notice
X
Your free template will download in
5 seconds
.
Check out this offer while you wait!