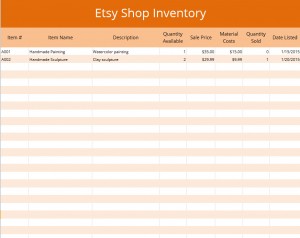 There are more creative people out there than you can ever imagine. Some artists had a hard time showing off their work to the world before the popularization of the internet. Online shopping software popped up everywhere which allowed artists to sell their very own products online. The current trendsetter in online shopping is Etsy, which encourages artists to sell their own creations. Jewelry, art, photography, beauty products and knickknacks are the best selling products in their shops. Sellers should really keep detailed statistics of their products for their own records. This is where the Etsy Inventory Template comes into play. You can easily store information about your products, costs, and quantities with the free Etsy Inventory template.
Using the Excel Etsy Inventory Template
The Etsy inventory is a hassle-free Excel template that stores every piece of information about every product in your store with ease. Find the download link near the end of this article and open the file up in Microsoft Excel.
Every item in your online store can be entered easily into your inventory template. Start out with the number for the item. If there's no item number available, create one like "A001" or just leave it blank. Then enter the name for your product in the space to the right.
The next task on your list is to enter a description for the item. If there's not enough room, widen the column to fit your needs. You'll notice that the next few fields are numeric-based. In the Quantity column, insert the number of items you have on hand to offer customers.
Enter your sale price, cost for materials, and the number of items that have been sold. To keep track of how many you've sold over time, record the date you listed the actual item on Etsy.
Keep a close eye on your inventory with the free Etsy Shop Inventory for Excel. You'll see just how easy running an online shop can be.
Download: Excel Etsy Inventory Template
X
Your free template will download in
5 seconds
.
Check out this offer while you wait!