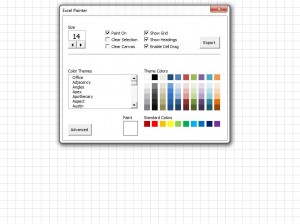 Excel Painter is a program that allows the user to open, edit and save pictures, graphics or image files in a unique way. It is easier to play around with this software once the creative way of using it is learned. You can get the Excel painter template for free on this page. Simply click the download link to begin!
The Right Way to Use Excel Painter
The Excel painter is free, customizable and downloadable with a click of a button. To use it, just launch the program as it is done with other software from the location it is initially saved. Once the program starts, you can use it to paint on any project.
First, this template will require the user to enable content from the system option. To start painting, simply select the option, open the target file and click on the tool you want to begin with. You can either hold down the mouse button and drag it to produce the image or use built-in shapes and images from the template. Either way, the template produces a high quality, easy to use base for creating images and graphics.
The Right Reasons to Paint
This template provides a wide range of options when it comes to deleting or altering the image. The toolbox has erasers of various sizes, and one can also avail the feature of delete, undo and resume options on the menu. The color palette can be used to obtain the desired color, hue and saturation for painting.
Excel templates can be used to produce fine artworks, and it is a great tool for novice as well as professional painters. The template also includes a comprehensive Help system to help you master the virtual painting software in minutes. It contains information regarding various tools and their usage as well as visual catalog of what the Excel Painter can achieve.
Excel Painter In a Nutshell
Excel Painter also has hidden features that are not easy to find on the first attempt. These include trail mode, stamp mode and moving pictures. The keys from the keyboard can be used to perform some of these functions. In the stamp mode, the user can select the part of the image, press the control key and move the image to the adjacent part. This is easier compared to cut, copy and paste feature found in many other paint software programs. Overall, Excel Painter is compatible with most modern devices and more reliable than conventional paint software.
Download: Excel Painter
X
Your free template will download in
5 seconds
.
Check out this offer while you wait!