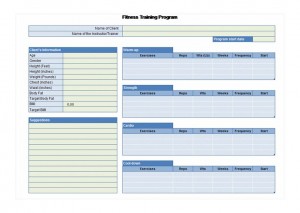 Those who work in a gym or fitness facility know there are a variety of ways to attempt to get your clients in shape. Monitoring a client's progress is critical to helping them reach their ultimate goals. A simple but incredibly efficient way to do this is by using the exercise planner template. This exercise planner template is a free download designed to help meet the needs of trainers. Simply click on the link located on this page to get started with the exercise planner template today!
Using the Microsoft Exercise Planner Template
The exercise planner template is an easy-to-use and understand Excel workbook from Microsoft. There are two pages included in the workbook. The first is titled "Info & Schedule" on the tab located at the bottom of the template. This is where you will lay out the exercise plan for your client.
The first step in using this page of the exercise planner template is to add the name of the client as well as the name of the instructor/trainer. Next, add the program start date. The next step is to add all of the client's physical information. This includes:
Age
Gender
Height (Feet)
Height (Inches)
Weight (Pounds)
Chest (Inches)
Waist (Inches)
Body Fat
Target Body Fat
BMI
Target BMI
The next thing you will notice on the exercise planner template is the exercise categories. The categories are warm-up, strength, cardio and cool-down. Within each category is where you will list a set of exercises, the number of repetitions the client will perform, the weight they will work out with, how many weeks the exercise will be performed, the frequency in which the exercise will be performed, and when the client will start.
Filling in the aforementioned information is a process you will repeat throughout the first page of the exercise planner. Finally, there is a space reserved for any special comments or suggestions for individual clients.
The second page of the exercise planner is titled "Program Tracking". Here is where you will track the progress of your clients on a weekly basis. You are encouraged to fill in the actual data for suggested exercises and find the difference/deviation on repetitions and weight parameters to schedule up the following week's program.
Help your clients achieve maximum results while also keeping yourself on track with the exercise planner template. Download the Microsoft exercise planner template absolutely free from MyExcelTemplates.com today!
Download: Exercise Planner
X
Your free template will download in
5 seconds
.
Check out this offer while you wait!