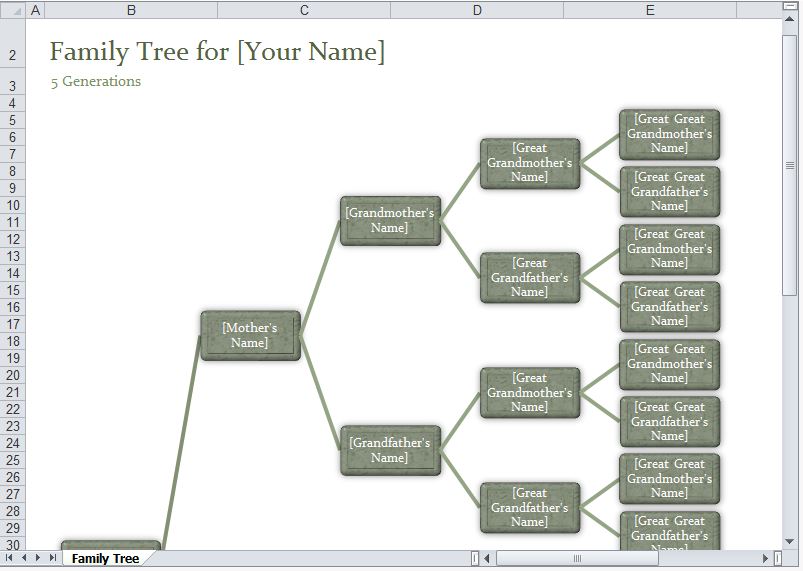 In today's day in age, keeping track of our family, our past and our heritage are vastly important. There are many different programs and systems you can use to do discover your heritage. However, using the Family Tree Template Excel from MyExcelTemplates.com makes doing family history not only easy, but fun. The Excel Family Tree Template is a supremely simple and enjoyable way to keep track of your family members and distinct heritage line.
How to Use the Family Tree Template Excel
Using the family tree excel template simplifies family history so most anyone can complete the template. The Family Tree Template Excel is the perfect choice for those who want to keep good track of family history and do not want to spend many countless hours setting up your own programs or learning to use overly complicated and expensive programs. You can download the software for free and, with very little work, could be well on your way to having a fully updated version of your family tree that is correct, organized and looks amazing.
You can download your own information print charts and reports with only a few clicks of a button, and is easily customizable in Excel . It is also available in many different languages, and has a style and format that makes it easily accessible to any who want to try.
Download the software for the template and within minutes be well on your way to having a recorded history of all your ancestors, for yourself and your children. Using the template is most certainly something you can all look back on to try draw closer to your history and heritage.
The family tree excel template is simple to use, easy to explain to others and a wonderful way for beginners wanting to learn and those with experience to enjoy family history. Even if you have already begun to manually do your family tree, you can finish the job, and make it so much easier on yourself with the family tree excel template to finish the job. Don't waste any more time trying to write it down by hand –  save yourself a lot of time and frustration and use the family tree template excel software. With this amazing software we can all do the work that we hold close to our hearts, and our kin.
Download the Family Tree Template from Microsoft Office: Family Tree Template Excel
X
Your free template will download in
5 seconds
.
Check out this offer while you wait!