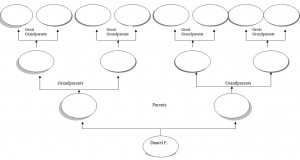 Building a family tree is an essential component to connecting the past to the future. With just a collection of a few simple boxes/circles and connecting lines, we can effectively map the course of our genealogy through several  generations, simultaneously revealing secrets about our heritage, ancestry and past we never knew were possible.
A great, great grandfather that sailed over from Spain centuries ago, a mother once related to European royalty. The surprising revelations behind unlocking the code to our ancestry are virtually limitless.
With the Family Tree Template made specially for Microsoft Word from MyExcelTemplates.com, individuals seeking to map their ancestry can effectively document and connect crucial components to their history, filling generational gaps and spilling secrets about their identity they never knew was possible.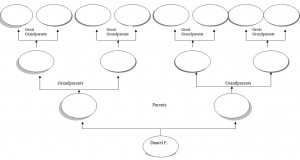 Why Download the Family Tree Template Word?
Building a thorough, lengthy family tree is essential to unlocking heritage secrets hidden in the past. And with the Family Tree Template Word download, individuals can:
Map their ancestry for FREE. Although filling voids in generational gaps will amount to some time spent digging through ancestry sites and inquiring with other family members, the Family Tree Template word download is 100% FREE for all users to acquire. 

Customize their family tree. The Family Tree Template Word comes packaged in a Microsoft Word format, allowing users to edit, remove and alter any images, wording or designs.
Make duplicates of their family tree. Looking to divvy out your completed family tree to other relatives? You can easily (and cheaply) print the Family Tree Template Word from your own computer printer, or from a scanner or copier.
Tips for Building Your Family Tree Template Word and Unearthing Your Ancestry
Give yourself a considerable amount of time for researching and collecting as much family history as you can. Be sure to include genders, birth dates, birth locations, death dates and death locations.

Make more than a few rough drafts. Along the way you'll be sure to encounter more than a few genealogy confusions and mishaps. Write in pencil for the first few drafts.
Go to an ancestry site to fill in the gaps. Although there are a few sites that require a fee, many ancestry tools are available free to the public. Once you've dried out your family members and relatives of all their ancestral knowledge, consider hopping on the computer and learning where your online research can take you.
Embellish your tree. Once you've completed your Family Tree Template Word, be sure to allot some time to add some pictures, graphics or specific details pertaining to individual family members. Did a great, great, great grandmother have a hobby she fancied, or was born with a particular birth defect? You'd be surprised at the characteristics that transcend multiple generations, or appear sporadically.
Download: Family Tree Template Word
X
Your free template will download in
5 seconds
.
Check out this offer while you wait!