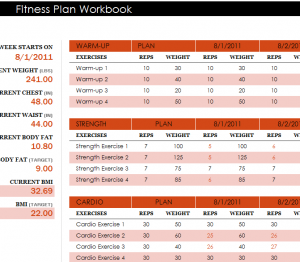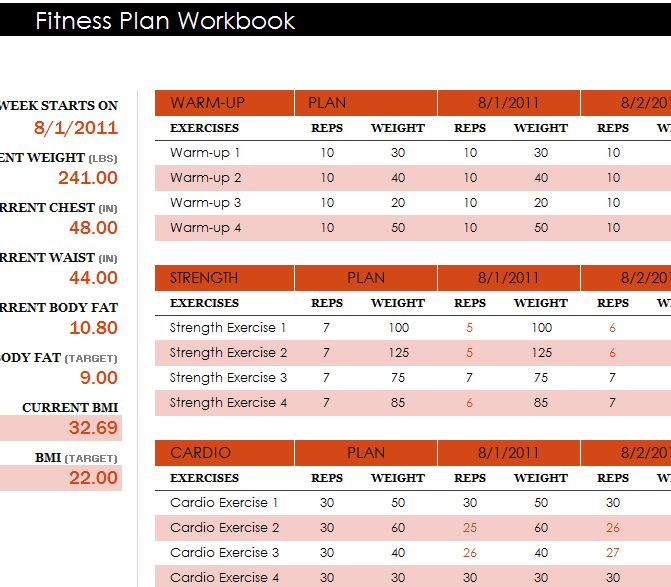 The Fitness Plan Workbook is one of the fastest and easiest ways to monitor your workout. Just enter your goals and current weight information and the Fitness Plan calculates your progress to keep you motivated to continue your exercises. The first week of starting a new workout regimen is always the hardest. Your body is not used to working out different muscle groups for a prolonged period of time. The Workbook pushes you to complete that tough week and continue on with the next!
How to Use the Fitness Plan Workbook
Start by downloading the free file below by clicking on the link at the bottom of the page.
This simple template has a space for the 4 major categories of workouts in which to enter a specific exercise. These include: your warm-up, strength training, cardio, and your cool-down set. Start by clicking on any of the pre-written examples and writing in your own workouts that you want to accomplish throughout the week.
There is also a space to enter the amount of reps, the weight you lifted, the number of weeks you've been doing this routine, and the frequency you do them in each table.
The "Week 1" tab tracks an overview of the past 5 days for each of your workout categories. The left-hand column tracks your current weight information, such as: your pounds, chest size, waist line, body fat, and BMI. This is meant to encourage you as you continue to make progress towards better health.
You can right-click on the "Week 1" tab and select "Copy or Move" to create another identical table for the next day of the week. Continue to do this as you progress and you can accomplish any weight loss goal!
Reasons to Use the Fitness Plan Workbook
Includes a side column to display your progress
Easily customizable for your workout routine
Tracks up to 5 days on a single tab
Download: Fitness Plan Workbook
X
Your free template will download in
5 seconds
.
Check out this offer while you wait!