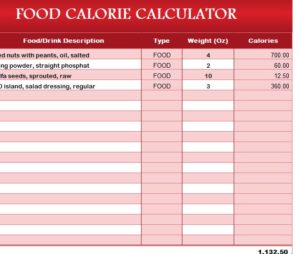 Keeping a watchful eye over all the calories you intake is no simple task. Who has the time to plan their meals around calories when the food is right there in front of them anyway/ the free Food Calorie Calculator is a tool that makes managing and monitoring your caloric intake easy and your waistline smaller in the process. This free document has a few simple tools that allow you to enter, food you love to eat and the number of calories it has, you can include whole meals or simple snacks, it's completely up to you. To learn how to download and use this free Food Calorie Calculator, just read the guide provided below.
How to Use the Food Calorie Calculator
Click the link below to first download the free template file to your computer.
The Food Calorie Calculator has two different tabs at the very bottom of the table, you will see. The "Food Table" tab is a running account of common foods and their number of calories. You will continue to add to this tab as you find new foods and dishes that you love.
The "Calories Counter" tab is the main page in which you will keep track of the things you eat on a daily basis.
At the start of each day, you will play around on the counter and find the meals that you want to eat and the number of calories they total to. You can use the drop-down menus in this section to choose the foods from the previous tab quickly and easily to your day's menu.
At the very bottom of the document, you will see that the table is adding all the items you enter together, for a total calorie count at the very bottom.
Depending on your personal goal, you can adjust your daily menu how you see fit and always eat the right number of calories each and every day.
Download: Food Calorie Calculator
X
Your free template will download in
5 seconds
.
Check out this offer while you wait!