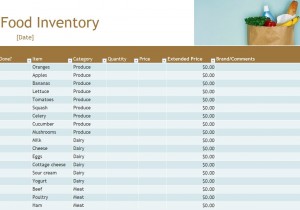 Organization is the key to reducing stress in a home. Many people make lists, inventory, pantry and grocery lists only to lose them. With the food inventory template information can be easily stored on the home computer, and new or changing information can easily be entered into the template and saved.
Families that stockpile food for emergencies will find this template a dream come true. This list is helpful to keep large stocks from expiring, and can keep track of how many of each item is on hand. Busy families can use this template as a guide through the grocery store, knowing what they have and what they need, and this will cut down time in the store.
How to Use the Food Inventory Template
First, download the template and save it in an easy to find place on the computer. Open the file by double clicking it. Once it opens you will see a giant list of food items. Click on the item that you want to add an amount for.
Second, use the tab key to move easily to the next field in the template. Item name, the category of the item, quantity, price, and even comments on the brand can be filled in.
Third, the extended price field will automatically calculate how much the entire stock of the item needed or on hand after the price is entered into the template. It also automatically calculates at the bottom of the list for everything on the list.
Tips for Using the Food Inventory Template
This template is completely customizable. Each name for each item can be changed to suit the needs of the family. Each item in the list can also be custom colored. This is a handy option for items that are needed most, items that are running low, and for items that have a high quantity already on hand.
Save often as you change or enter new information into the food inventory template.
Print out a copy of the food inventory template before attempting to grocery shop to make the trip faster, and easier. A blank template can always be printed out and placed in a location in the kitchen so that when an item is needed it can be added by hand to the list.
Download: Food Inventory
X
Your free template will download in
5 seconds
.
Check out this offer while you wait!