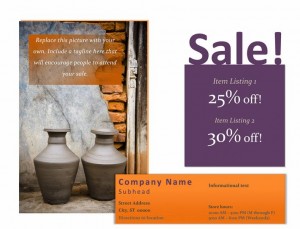 Putting up flyers is one of the age-old ways to sell a given product. However, if one chooses to go that route it's important to ensure he or she has a flyer that will get viewers' attention and make them want to know more. Building a flyer like that from the ground up can be hard work, especially for those who aren't particularly computer savvy. Fortunately all you need is our for sale flyer template, and you too can make designs that will stop passersby in their tracks.
How the For Sale Flyer Template Works
All someone needs to use this particular template is Microsoft Word 2010 or better. Simply go to our link, and download the template for free. Once it's saved to your computer, open the file and click "Save As". Give the file a new name like "Couch For Sale", then start filling in all of the blanks provided. Once all of the information is filled in, all that's left is to save the finalized flyer, and either print it yourself or take it to a printer to get all the copies you need to spread around town.
The Benefits of the For Sale Flyer Template
In addition to being straightforward and easy to fill out, our for sale flyer template is also free. There are no caveats to that statement. It isn't free the first time, or the first three times; it's just free. So if you accidentally delete the original template, or over-write it with a save, all you have to do is go back to the link and download it again.
You can download the for sale flyer template onto as many different computers as you wish, and you can even download it to separate tablets and smartphones if you so desire. There's no limit to how often you can have the file; the goal is just to provide a template that's attractive, easy to use, and which makes creating a useful, user friendly sales flyer that much easier. As long as you have access to a machine with Microsoft Word, you're good to go.
Download: For Sale Flyer Template
X
Your free template will download in
5 seconds
.
Check out this offer while you wait!