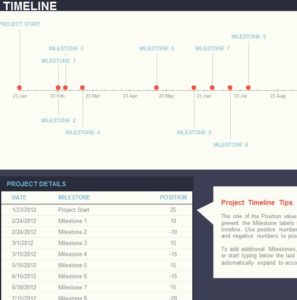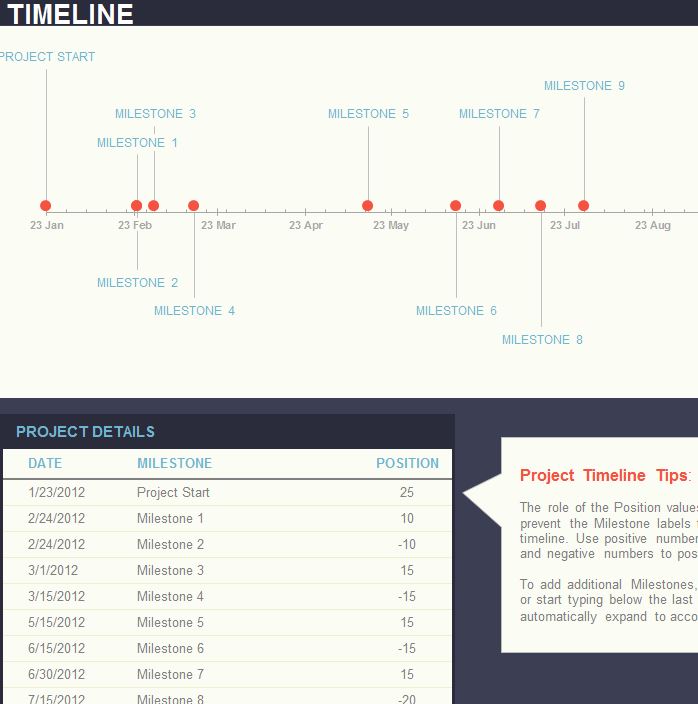 If you really want to make a major goal succeed, whether it's making your first million or starting a business, you'll need a great way to chart out your course of action. The simple timeline structure of the template gives you a great way to visualize your path to success. Imagine a chart that informs you exactly where you need to be and when at each stage of your project until your goal is accomplished. That's exactly what this free template brings to the table. Download the TimeLine Template today to get started on carving your own path toward success.
How to Use the Goal Timeline Template
Start by downloading the template directly to your computer. To do this, simply follow the link provided below.
Next, go to the table at the bottom of the page (ignore the chart for now). You'll notice there are three sections in which to enter information.
If you look back up at the example chart given, you'll notice that the "milestones" listed represent tasks that need to be completed by the date that they are connected to. With that in mind, you will enter the associated information into the table below.
Start editing your table by listing the date of your task and its completion and the name of the task as well. Feel free to use any title you like that relates to the task at hand.
When you have the date and name chosen, all that's left to do is enter the position of your chart. This will change the height of the task in your chart to avoid mixing up tasks that are close together on your timeline.
All the information that you have listed through the above steps will appear in the chart above. Instead of coming up with ideas off the cuff, you can have a perfect plan ready and waiting for you at a glance. Download the timeline template today for free and get started on your journey.
Download: Goal Timeline Template
X
Your free template will download in
5 seconds
.
Check out this offer while you wait!