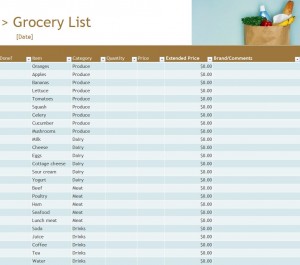 The last thing anyone wants to do after a long day of work, and driving through grueling traffic, is visit the grocery store. Let's face it, by the time you get to the grocery store, it's packed and over crowded. After a long day, your mind isn't at peak performance, and knowing what you need, or the items you wants can be challenging. A simple solution to your problem is using a Grocery Inventory List.
Using a Grocery Inventory list is an effective alternative to remembering needed home items off the top of your head. Your list will become an asset in grocery shopping needs, leaving all the work to your list, saving you more time, and alleviating your stress.
How to Use the Grocery Inventory List
The Grocery Inventory List is easy to use. Download for free from this page to get started. First start by taking inventory of common (and uncommon) grocery items you need.
Your personal inventory list is customizable for your household. Add products you frequently purchase, as well as product types and brands. It is recommended to add items you infrequently purchase so you know when and how much you will need in the future. The inventory list will categorize your items for you.
Save and update inventory lists as needed. The Grocery Inventory List sorts purchased items, making shopping timely and efficient.
Tips for Using the Grocery Inventory List
The more information the better. Your inventory list can track purchase prices, preferred brands, and the quantity of items you need. The more information tracked, the easier shopping will be for you.
Note how frequently you use item. For example, if your household uses more milk than cake icing, make note. This will make shopping decisions easier because you will know exactly what you need, when you need it.
Keep up to date with weekly specials. If you know that certain items you purchase go on sale frequently you can stock up on items and remember not to purchase them in the future.
Download: Grocery Inventory List
X
Your free template will download in
5 seconds
.
Check out this offer while you wait!