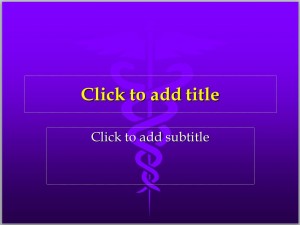 Health care providers are institutions or persons that provide health care services. These services range from preventative, defensive, treatable and recovery depending on what the medical facility specializes in. It is important for health care providers to educate potential clients and patients on their care and services. The Healthcare Template offers a personal, professional look that is geared toward the medical field. It is customizable, easy to use and free to download.
How to Use the Healthcare Template
The first slide presented in the Healthcare Template is designated for the provider's information. Click on the top text box in the slide already displayed on the screen. Type the name of the company here. Click on the lower text box to include presenter's information.
The next few slides are designated to relay pertinent knowledge about the provider and its services. To add a slide, click on the new slide tab on the upper left side of the screen. Click on the top horizontal box to title the slide based on the information that will be presented for this slide only. Click on the lower box to type relevant information in a bullet style format. Repeat this process until all desired information is input in the presentation.
A few slides can emphasize a brief history of the company, services provided, type of care practiced, specialist or doctors at the facility, financial options, and where the medical facilities are located with contact information.
Use the tabs in the upper screen. The Insert tab contains different avenues for inserting media, clip art, pictures, and graphs. The Review tab is for reviewing the presentation to ensure the document is error free, specifically spelling and grammar. The Slide Show tab is for visualizing the presentation, which depicts the crafted slides as they would appear when presented.
Tips for Using the Healthcare Template
Prior to beginning any project, create an outline.
Avoid slide clutter with too much wording and media. The purpose of presentation is to outline and display brief and accurate information for the viewers. It is up to the presenter to disclose all relevant information and details.
The column to the left of the screen is a snap shot of all the slides created. From here, the order can be rearranged if necessary.
Letting prospective patients and clients receive the information in an understandable way will make any future decision making easy. The Healthcare Template provides a quick and easy click and type format.
Download: Healthcare Template
X
Your free template will download in
5 seconds
.
Check out this offer while you wait!