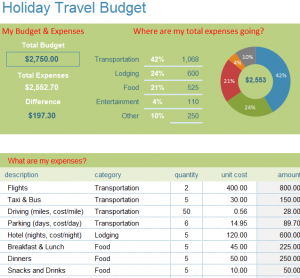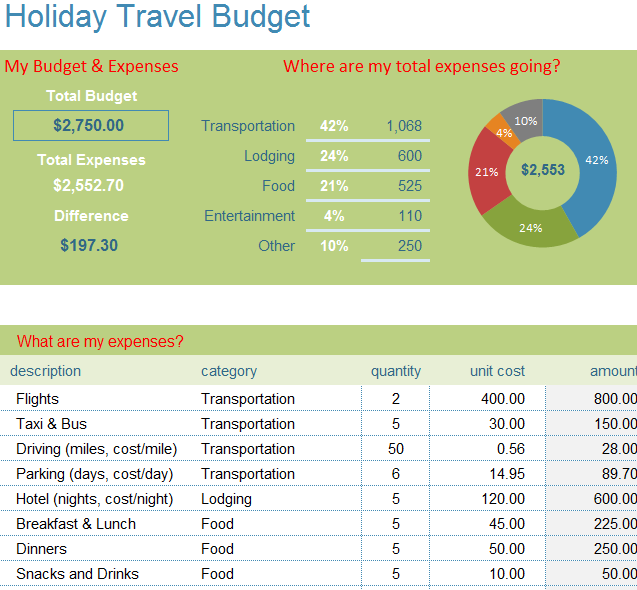 The holidays are a hectic time to plan a vacation or even travel, but it's something that everyone does. For this reason, keeping a budget to organize all of your financial information for travel is a great idea. Often people will cancel, exchange, or upgrade a flight due to last minute adjustments. This convenient template helps you control the chaos and come out on the other side knowing exactly how much you've spent. Now is the time to master your travel plans and chart a path to huge savings. Nothing is better than enjoying the holidays with the people you love, but you can make it a little better by saving some money as well.
Holiday Season Travel Budget Guide
To start, type in the total amount you want to budget for yourself under the "Total Budget" section at the top of your page. This will keep track of all your expenses and calculate what you actually spend and give you the difference. If you are under budget, the difference will be displayed in green. If you are over budget, the difference will be displayed in red.
In the "Expenses" table in the middle of the page, you will fill out the information inquired by the document. This is simply a space to list each of your expenses in more detail. First, you will enter the name of your expense, such as the flight ticket, hotel, food, etc. Then, enter a category that the item belongs to. The Travel Budget provides you a few examples of the different categories: transportation, lodging, food, and much more. Next, you will enter the quantity you have purchased for that item. For example, you can enter the nightly cost of your hotel and enter "3" if you are staying at your hotel for 3 nights. After the quantity, you can enter the unit cost as well.
The Holiday Season Travel Budget will take the quantity and the unit price you have entered to give you totals for each item. All of this information is taken and calculated into the "Total Budget" as well. The overview at the top of the page provides a breakdown of each category, listing percentages, and a colored wheel of your budget breakdown as well. Have the peace of mind knowing all your financial worries are taken care of for your amazing vacation getaway!
Why You Should Use the Holiday Season Travel Budget
By using the Travel Budget, you can rest easy knowing you're not needlessly spending on your vacation. The biggest worry you'll have while on your trip is going over your budget, it just persistently haunts the back of your mind as you try to enjoy their vacation. This template is designed to take that sense of worry away as you enjoy quality time with the people you love.
Plan the perfect holiday getaway with this Travel Budget!
Download: Holiday Season Travel Budget