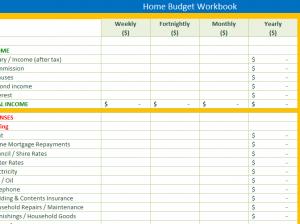 The Home Budget Workbook is a safe and free way to organize your financial information to start planning for the future! Nothing is better than having financial security in life and the first step to achieving this is having your information in one simple document. The Budget Workbook gives you the opportunity to write down the significant expenses in your life and adjust your spending to make the best of your financial situation. Start planning for a new car, home, and even retirement with the Home Budget template.
Home Budget Workbook Instructions
Start by downloading the free file at the bottom of this page by clicking on the link provided.
The template separates major expenses into different categories and also provides you with a list of examples to get you started! You will begin by filling out your income information at the top. The template gives you a space to enter your salary, commission, bonuses, a secondary income, and interest but you can change any of these items by clicking on the cell and start typing in your new information.
The main table is where you will enter the various expenses throughout your life. The template includes examples for: housing, transportation, health, education, food, and much more. Again, you can add or edit any of the examples to better fit your lifestyle and the expenditures that are more common for you.
As you are reviewing the information, there is a section for you to leave notes of significance for yourself. If you want to make certain changes to your spending habits simply write down a note in the large blank space in the right-hand side of the page.
All of your income and expense information will be taken and calculated at the bottom of the page so you can see how much of your yearly, monthly, and bi-weekly income is left after all of your expenses.
Why You Should You Use the Home Budget Workbook
By using the data gathered by the Budget Workbook you can start to understand and assess your financial information. This understanding is paramount when starting to build up your savings or take care of debt. You will get an overview of the important items and have the ability to allocate funds into better avenues. This template gives you everything you need to accomplish your financial goals.
Download: Home Budget Workbook
X
Your free template will download in
5 seconds
.
Check out this offer while you wait!