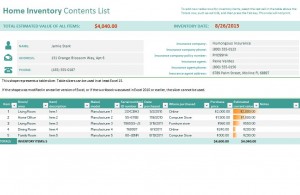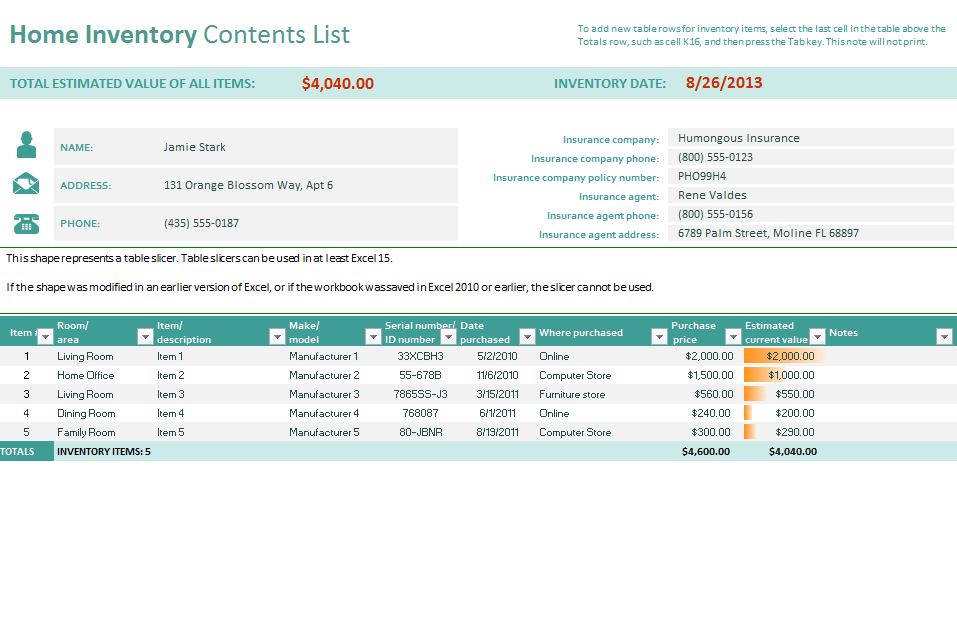 Having an inventory listing of everything within a home is not only responsible but extremely necessary in case anything should go wrong. The Home Inventory Checklist template will make being responsible easier and home insurance companies will delight over having such a detailed, organized list on hand so that they can help in a timely manner. This handy tool will include an easy to fill in template that also contains valuable information about the home insurance company as well as the agent handling the case.
How to Use the Home Inventory Checklist Template
First, fill in the name, address, and phone number portion at the top of the template.
Second, click on the top right corner of the screen to add a new room to the template. This is where you will enter in the items of the first room that you are working in.
Third, scroll down to the bottom portion of the screen of the Home Inventory Checklist, click on the number 1 under the header of Item #.
Fourth, tab over two columns because the second column will automatically load up the name of the room. In the third column an item description will need to be entered as well as the amount of that same object. For example, if this is the kitchen, and there are 12 teaspoons in the room, enter 12 Teaspoons into this column. Do this for each row.
Fifth, tab to the next column and enter here the make or model number of the item in this row. Do this for each row.
Sixth, tab to next column and enter the serial number or ID number for the item in this row. Do this for each row.
Seventh, tab to next column, enter the date that the item in this row was purchased. Do this for each row.
Eighth, tab to the last column in the row, enter the information for the item about where the item was purchased.
Do each step until all items in the specific room has been listed. To add an insurance company and specific agents information into the template click on the top right link that says Insurance company and enter all of the information for them into the fields listed.
Tips for Using the Home Inventory Checklist Template
Save often as you enter item information into the template, and save the template in a place in the computer so that it can be easily found.
Save a copy of the completed template to a thumb drive or even send it to your own email so if the computer ever goes down the template is not lost.
Home ownership comes with great responsibility and insuring not only the home, but all of it's contents are just part of that responsibility. Insurance companies will need a list of everything that the home contains, inside and out. The Home Inventory Checklist template provides an easy to complete and easy to read list of home items.
Download: Home Inventory Checklist