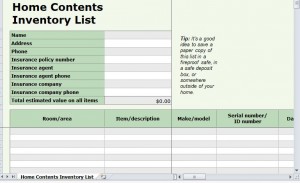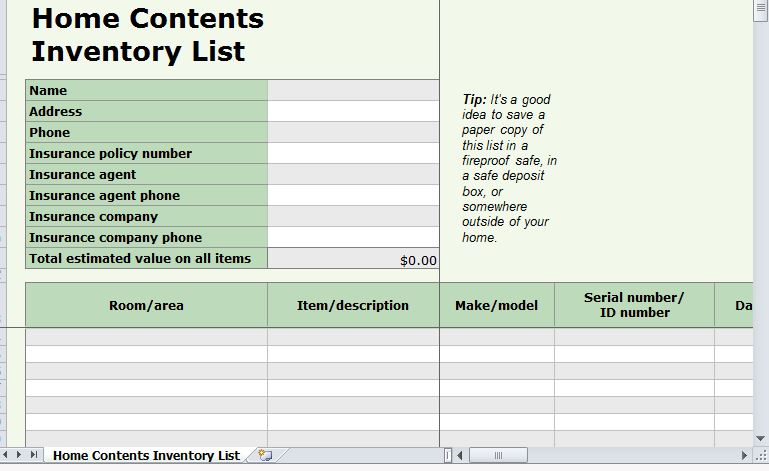 Whether you're a homeowner or renter, insuring the value of your possessions is important for both your financial security and peace of mind. However, signing up for a homeowners or renters insurance policy is just the first step. In the unfortunate event of a fire, break-in, or other property loss, a detailed home inventory list is critical to ensuring that you receive full value for your lost possessions. With this free, easy-to-use, downloadable Excel home inventory list template, you can create a comprehensive list of your valuables and their most important details.
How to Use the Excel Home Inventory List Template
Locate your homeowners or renters insurance policy. Fill out the contact information for your insurance agent and company, as well as your insurance policy number.
Go through your residence and identify any valuable possessions that should be covered by your policy. Using the fields provided by the template as a guide, document the details of your possessions, especially the make/model and serial numbers.
When your list is complete, be sure to keep both an electronic backup of your file as well as a paper copy in a secure location, such as a fireproof safe or safety deposit box.
Tips for using the Excel Home Inventory List Template
Use the "Notes" field to include as much detail as possible. The more detail you are able to provide to your insurance company, the more likely you are to receive full value for your lost possessions.
The "Total estimated value on all items" field has a formula that will automatically calculate the total value of your belongings. Be sure to compare this figure with the coverage on your policy. If your coverage is significantly less than what your items are worth, you may want to speak with your agent about updating your policy.
Remember to update your list regularly!
Damage or theft in your home can be a stressful experience, and something you may never be fully prepared for. By utilizing this free template to create your home inventory list, you'll be one step closer to being made whole again should disaster strike.
Download the Home Inventory List Template from Microsoft Office: Home Inventory List
X
Your free template will download in
5 seconds
.
Check out this offer while you wait!