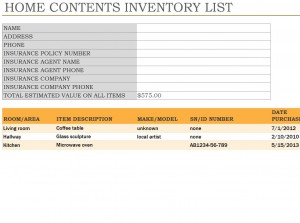 Keeping a personal home inventory spreadsheet of your belongings ensures protection of valuable goods. Having a spreadsheet will make future insurance claims easier, and less disputable with accurate recording of belongings. With your spreadsheet, you have the power to protect your assets. Downloading your spreadsheet now will not only protect you from future damage, but allow piece of mind when facing potential damage to your personal items.
How to Manage a Home Inventory Spreadsheet
Don't be intimidated, managing a Home Inventory Spreadsheet is easier than you think. Manage your spreadsheet in the following ways:
Keep up-to-date with recent purchases and items in your home. The spreadsheet template is customizable, and is ideal when reporting insurance claims.
Your Home Inventory Spreadsheet is easy-to-use, download for free on this page to get started. Once downloaded, simply fill out pre-made forms for each of your items. This is how you document your belongings.
Drop down lists allow you keep track of important data such as: product manufacturer, model, serial number and purchase price. This is the ultimate way to stay organized and have detailed descriptions of home inventory.
Tips for Using the Home Inventory Spreadsheet
Managing your personal belongings can seem overwhelming. Here's how to keep track of personal belongings most efficiently:
Categorize belongings with custom options. Create inventory logs dictated to items that are most important to you. For example, have an "electronics" or "furniture" section. Keep those categories separate to stay organized.
Keep up-to-date with purchase prices and appraisals. The more current your information, the more documented claims you can make with insurance agents if there is a future issue. This is a great way to keep track of items in your home and determine when to update your personal belongings.
Stay on top of it. Once you have created your home inventory spread sheet, it will be easy to add items as they are purchased.
Regardless of the situation, having a home Inventory Spreadsheet is a must for future, personal protection.
Download: Home Inventory Spreadsheet
X
Your free template will download in
5 seconds
.
Check out this offer while you wait!