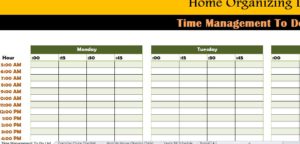 Managing your time can be a hassle. Between work, your social life, your hobbies, and maybe even school, you might not be able to find the time to do the things you love. That's when the Home Organizing List comes in handy. This template will allow you to casually list your everyday chores, billing information, contact details, and every other aspect of your life on one document. You can start saving your time for things you enjoy, instead of wasting it on these everyday tedious items. Everything you can imagine is ready and waiting for you in the organizing template. Get started today!
How to Use the Home Organizing List
The template is separated by tabs that range from a family contact information to the books and movies list you want to get around to this summer.
In each tab, you'll find a space to enter the specific information for that category. It's recommended that you go through all the tabs in the list and keep the ones that suit your life and delete the ones you don't need.
Once you're ready to start using the Home Organizing List, click on a category tab to begin. As an example, in the "Username and Passwords List," you can enter the website you want to save your password for, followed by your username and password.
Each tab has a similar structure. Once you click on a category tab, you'll simply list the information stated in the header and continue on with your day.
When you've entered all the items for one category, feel free to continue on to the next tab. You'll have all that information, you usually spend hours trying to find and organize, right at your fingertips.
If you're tired of sifting through old documents to pay bills or scrambling to find your child's school contact information during an emergency, you can rest easy knowing this Organizing List has you covered.
Download: Home Organizing List
X
Your free template will download in
5 seconds
.
Check out this offer while you wait!