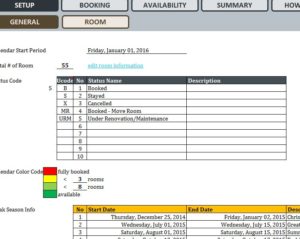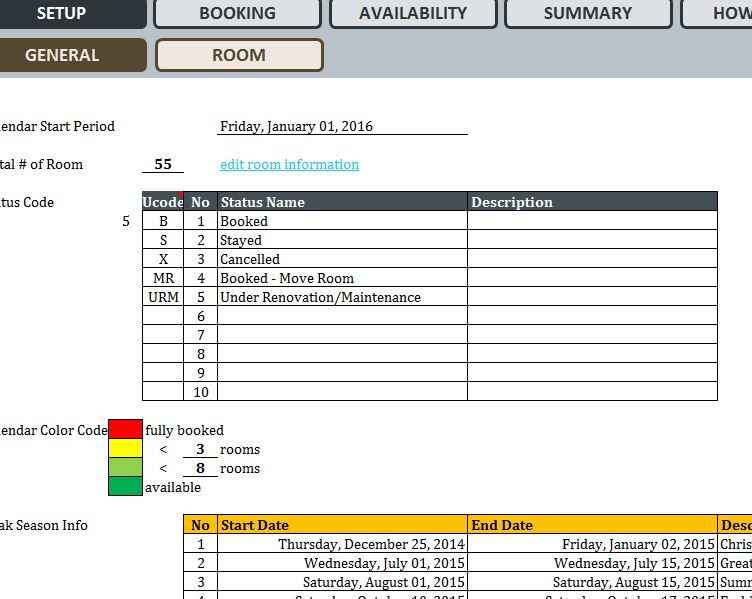 Starting your own hotel is a great endeavor to undertake. People always need a place to stay so you'll always have a client base to work with. However, the devil is always in the details and if you want your business to succeed, you'll need an organized system in which to book reservations and save that information for you use. You can't possibly remember all your customer's information and that's where the Hotel Reservation System comes into play. This free tool allows you to enter your customer information in one space. Quickly switching from booking to the room information with excellent navigation buttons, you'll have your hotel running as efficiently as possible.
Using the Hotel Reservation System
To download your free template file, just follow the link at the bottom of this page.
Now, start in the setup section of the Hotel Reservation System to create your unique organizational system. This space will help you organize the rooms and the terminology you want to use throughout the rest of the document. You can also include holiday and peak season information so you know when you'll be the busiest.
From this point, you can continue through the tabs, entering the rooms you have, the bookings already listed, the availability left, and any other general notes about your hotel you want to leave.
Using this system you can enter you guest information for rooms that are already booked and be able to provide up-to-date availability on the rest of your rooms. You can also use this information to know which rooms will require cleaning.
The Summary tab also lets you enter important customer information like cancellations and if they have stayed at your hotel before.
Using this Hotel Reservation System you can create the perfect tool specifically tailored to organize your hotel and make sure every aspect of it is running smoothly.
Download: Hotel Reservation System
X
Your free template will download in
5 seconds
.
Check out this offer while you wait!